Phils may target righty with pop to balance '14 lineup
Phils may target righty with pop to balance '14 lineup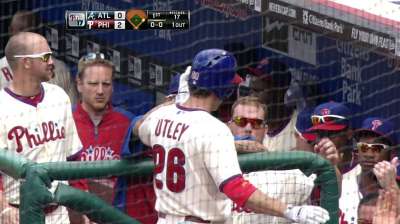 PHILADELPHIA -- If Cody Asche is the Opening Day third baseman in 2014 and everybody else returns as expected, the Phillies will have five left-handed hitters in their lineup: Ryan Howard, Chase Utley, Domonic Brown, Ben Revere and Asche.
The Phillies need at least one right-handed bat with pop.
There is some buzz about free-agent Cuban first baseman Jose Abreu, but one source said he does not seem to be a fit. Abreu is not a candidate to play the outfield, which is a likely requirement for a few reasons.
First, Ryan Howard has three years and $85 million remaining on his contract. Second, the organization already has Darin Ruf, who can play first base, and top prospect Maikel Franco, who has been learning the position. Both are right-handed hitters with power.
If Abreu cannot play the outfield, it would make little sense to spend money on him with so many other holes to fill, and Howard, Ruf and Franco already in the picture.
Ruf could fill a void in the lineup next season, either in the outfield or at first base against tough left-handed pitchers.
"I think there is still some determination to be made there," Phillies interim manager Ryne Sandberg said about a right-handed power bat. "[Ruf] has shown that he can swing the bat and swing for power. That's another area that needs to be addressed."
Todd Zolecki is a reporter for MLB.com. This story was not subject to the approval of Major League Baseball or its clubs.