Sandberg says relievers stepping up can fill 2014 holes
Sandberg says relievers stepping up can fill 2014 holes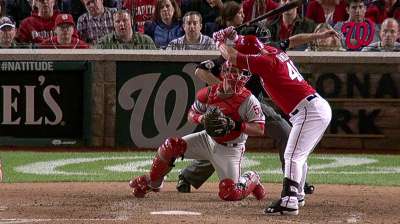 PHILADELPHIA -- Ryne Sandberg said he isn't thinking about his future, but he is thinking about the 2014 roster.
The Phillies have holes to fill.
"I would say solidify the starting rotation," he said before Monday's series opener against Miami. "I think that could be No. 1. Like I said, I think some of the question marks in the bullpen could have been answered, so that might have narrowed that down. We need to figure out the catching situation and better defense in the outfield, and continue to try to improve the lineup as far as the offense goes.
"I think with some of the youth, and young guys that have created some spark and have shown some athleticism and speed, I think that has shown the last three or four weeks. I think that's a good thing and I think that was needed. So there's a real good chance those guys are here. And then getting everybody back and being healthy."
Relief pitchers like B.J. Rosenberg, Jake Diekman and Justin De Fratus have made cases for themselves in the past several weeks, although it seems likely the Phillies will try to sign a free agent reliever or two to make the bullpen more stable.
"In some ways, maybe there are less question marks than a month and a half, two months ago with some positions on the team," Sandberg said. "Maybe primarily in the bullpen, and that's all good. Some guys have come a long way. Maybe some guys have earned some jobs next year going into Spring Training. That's all good. It really gives the organization a better feel and what they really need to concentrate on -- as far as the front office -- as far as the necessary pieces that either aren't here or that they need to go and get."
Todd Zolecki is a reporter for MLB.com. This story was not subject to the approval of Major League Baseball or its clubs.