Hernandez a 'pleasant surprise' in center field
Hernandez a 'pleasant surprise' in center field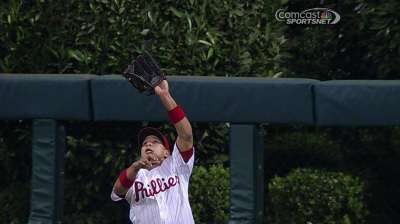 WASHINGTON -- Phillies interim manager Ryne Sandberg said Friday that rookie Cesar Hernandez, a converted second baseman, has been a "pleasant surprise" in center field thus far. Sandberg started Hernandez in center for the seventh time in the past eight games for Friday's series opener against the Nationals.
Sandberg said the 23-year-old Hernandez has fared well, despite facing some difficult plays, including sinking line drives and balls hit directly over his head.
"His stride and his foot speed and his speed to the gaps has been very good, calling off the corner outfielders on balls," Sandberg said. "So, pleasant surprise. It's not an easy position, by no means. But I think his athletic ability has allowed him to cover the position very well, and he finds himself in the lineup."
Hernandez also has been holding down the leadoff spot. He went 3-for-4 with a walk, a double and two RBIs on Thursday against the Padres, his second three-hit game in a week. A .309 hitter with a .375 on-base percentage at Triple-A Lehigh Valley this year, Hernandez has gone 9-for-22 (.409) with four walks and three doubles over his past seven contests.
Hernandez began playing center field in July at Triple-A. With Chase Utley at second -- and signed through at least 2015 -- the Phillies needed to find another spot for him.
Sandberg has an idea what Hernandez is going through. The Hall of Fame second baseman was a shortstop coming up through the Minors with the Phillies before becoming a legend with the Cubs as a third baseman in 1982.
"For a young player to have some versatility, sometimes that's how you become a regular, just because that position opens up, you've had experience there," Sandberg said. "Basically, that's what happened to me."
Sandberg added that he would like to see Hernandez get some work on the left side of the infield at some point, perhaps over the winter. That would help him match the versatility of Freddy Galvis, who has played second and third base, plus shortstop and left field. Sandberg liked the idea of having both players "in the mix" for next year in order to maximize the team's depth.
For now, learning center field is enough. While Hernandez has what Sandberg called "a real good infield arm," he still has to adjust to throwing from the outfield and seeing the game from that perspective.
"For a guy like Cesar to go out there, you really have to be in the game," Sandberg said. "When you're an infielder and you go to the outfield, you really have to focus a little bit more on the game, because home plate's farther away from you, and it feels like ... if you haven't been out there at all that the ball's not going to be to hit [to you], where the infield, you're on the balls of your feet, down really low, waiting for the hot shot."
Andrew Simon is a reporter for MLB.com. Follow him on Twitter @HitTheCutoff. This story was not subject to the approval of Major League Baseball or its clubs.