Lannan eager to prove himself next spring
Lannan eager to prove himself next spring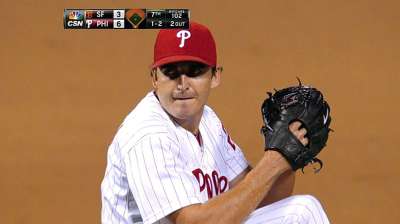 PHILADELPHIA -- John Lannan understands the economic landscape of baseball pretty well.
He signed a one-year, $2.5 million contract with the Phillies in the offseason, but suffered a left knee injury last month and had surgery a short time later. Lannan is hopeful he will be 100 percent and ready to go by the beginning of Spring Training, but where remains to be seen.
Lannan is eligible for salary arbitration, but it seems likely the Phillies do not tender him a contract. If they did, he would be in line for a raise, which would be a risk considering he made 14 starts this season and is trying to come back from knee surgery. They could non-tender him and bring him back for less, or they just could just non-tender him and let him sign elsewhere.
"There are so many different scenarios," said Lannan, who is using crutches to get around the next few weeks. "It's not like I can go out there and change their mind. I did what I could do when I was healthy. I pretty much have an idea of what's going to go down. I'm not an idiot. I'm ready for the challenge, whatever comes up. I just want to make sure this is right. That's the only thing I can control. The other stuff I can't control."
Asked if he would be up for competing for a job in camp, Lannan said, "I think it'd be good. I've never come into camp thinking I've locked up a spot. I've always enjoyed the competition. It pushes you a little harder. I'm looking forward to proving to myself, and whoever I sign with or if I stay here, that I can help a team win."
Todd Zolecki is a reporter for MLB.com. This story was not subject to the approval of Major League Baseball or its clubs.