Rollins one home run shy of elite mark
Rollins one home run shy of elite mark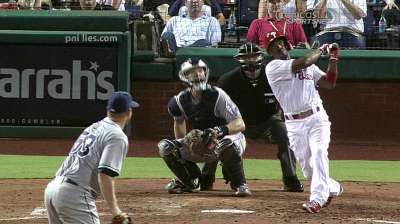 PHILADELPHIA -- It has been a rough season for Phillies shortstop Jimmy Rollins, but he is close to joining elite company.
He needs one more home run for 200 in his career, which would make him one of just 10 players in baseball history with 200 home runs and 400 stolen bases. The others are Rickey Henderson, Barry Bonds, Craig Biggio, Paul Molitor, Joe Morgan, Johnny Damon, Roberto Alomar, Marquis Grissom and Bobby Bonds.
Phillies interim manager Ryne Sandberg, who had 282 home runs and 344 stolen bases in his Hall of Fame career, is impressed.
"Absolutely," he said. "Especially for an up-the-middle guy. That's a plus with his bat and the power. Also shows the speed he's got. But you know, that's his package. He has hidden pop in there and the ability to hit the ball out of the ballpark. Normally happens when he's not trying to do it. His speed is his speed. It's a rare combination. It's bringing very good offense to the shortstop position, which really wasn't the case 20, 25 years ago. Just had primarily good glove guys. Maybe it was back 30 years ago when guys up the middle were good glove guys. He's an offensive player and an excellent baserunner."
Rollins entered Thursday's series finale against the Padres at Citizens Bank Park hitting .244 with 28 doubles, two triples, six home runs, 37 RBIs, 19 stolen bases, 53 runs scored and a .650 OPS. His OPS ranked 136th out of 143 qualifying players in baseball this season.
It is the worst mark of his career.
"I don't think that he's had a hot streak like he's had in the past, a month of just being locked in on the offensive side of it," Sandberg said. "You could say the whole team was like that. Everybody around him was the same way."
Todd Zolecki is a reporter for MLB.com. This story was not subject to the approval of Major League Baseball or its clubs.