Martin could see back-to-back work in relief
Martin could see back-to-back work in relief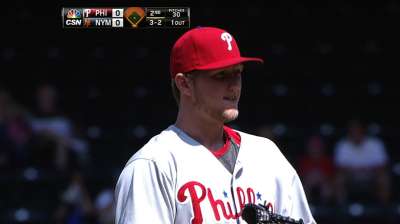 PHILADELPHIA -- Phillies rookie Ethan Martin impressed in his first big league relief appearance Tuesday.
He threw a perfect sixth inning in an 8-2 loss to the Padres at Citizens Bank Park. He struck out one, throwing each of his 10 pitches for strikes. Asked Tuesday if Martin might be available to pitch back-to-back days, which is a requirement for any reliever, manager Ryne Sandberg said he was uncertain. Martin's first seven appearances in the big leagues had been as a starter.
It sounded like Martin, who is ranked as the Phillies' 10th-best prospect, could see some action Wednesday, if needed.
"Try to pick some spots for him, different situations, a spot that makes sense with batting orders and with the other guys that we have in the 'pen," Sandberg said.
Todd Zolecki is a reporter for MLB.com. This story was not subject to the approval of Major League Baseball or its clubs.