Asche, Rupp compare first Major League hits
Asche, Rupp compare first Major League hits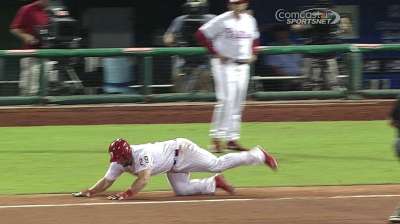 PHILADELPHIA -- Cody Asche and Cameron Rupp both hope to have long and successful big league careers.
They hope to pick up hundreds, if not thousands, of hits.
The Phillies rookies recently compared their first big league hits. Asche reached on a bunt single Aug. 1 when Giants closer Sergio Romo slipped and fell trying to throw to first base. Rupp reached Tuesday on a bleeder up the third-base line. He then did a barrel roll after stumbling across first base.
Not exactly rockets into the gap, but they will take them.
"I think his was more of a hit than mine, but I didn't spill running to first base," Asche said. "They both count. I don't care. I'll take 3,000 of them."
Good point.
Todd Zolecki is a reporter for MLB.com. This story was not subject to the approval of Major League Baseball or its clubs.