Ruiz's strong finish strengthens his market
Ruiz's strong finish strengthens his market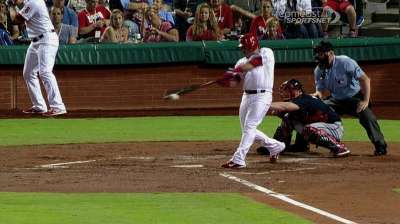 PHILADELPHIA -- Phillies catcher Carlos Ruiz could not ask for a better finish to his season.
Ruiz hit .330 with nine doubles, four home runs, 16 RBIs and a .920 on-base-plus-slugging percentage in his 30 games prior to Sunday's series finale, giving the Phillies something to think about as they enter the offseason with Ruiz set to become a free agent.
"They haven't said anything about next year," Ruiz said Saturday. "We're open to talk whenever they want. At the same time, I'm happy and healthy. Everything depends on the Phillies. If they want to talk before the end of the season, we're OK with that. If not, we'll wait and see what we've got in the market. It's not in my hands, you know? The only thing I can do is continue to play and try to finish strong."
Phillies general manager Ruben Amaro Jr. said last week "it's possible" they could address Ruiz's contract status before the end of the season, but "I think we'll probably wait until the end of the year. He's playing much better. I think there are times he's still pressing, but for the most part, he's playing a lot more like Chooch. We'll see."
Todd Zolecki is a reporter for MLB.com. This story was not subject to the approval of Major League Baseball or its clubs.