Revere, Howard to play in instructional league
Revere, Howard to play in instructional league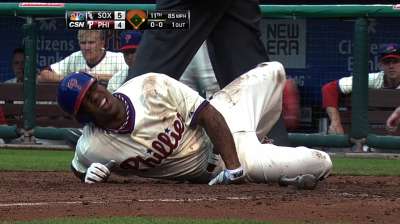 PHILADELPHIA -- The Phillies expect both center fielder Ben Revere (broken right ankle) and first baseman Ryan Howard (left knee inflammation) to play again before the end of the season.
The Florida instructional league season, that is.
Revere will head for Clearwater, Fla., when the current homestand ends after Wednesday night's game with the Braves. Howard is already at the team's Spring Training site. The purpose is to allow both players to go into the offseason convinced they're fully recovered and ready to go next spring.
"They'll get more individualized attention there and they're starting to work in some of their baseball skills, so as we get closer and closer to FIL, those guys will be doing more and more," said general manager Ruben Amaro Jr. "Hopefully at some point, when they get their bodies together, they'll be healthy enough to play in some games. At the end of the day, we just want to make sure that, at least for their peace of mind, they know mentally that they're ready.
"They'll play as long as we think it's necessary. Whether it's two games or 10 games or 12 games. It's about being able to go into the offseason knowing that they're ready to go, ready for Spring Training."
The first instructional league workout is scheduled for Sept. 18; Games will be played from Sept. 24 through Oct. 12.
"It's just to have [Revere] pass the test, so he'll have a fresh mind once the offseason starts," said interim manager Ryne Sandberg. "Whatever number of days or games that means, he'll get into some games so he's game-ready and ready to go to start the offseason, looking forward to 2014. [Playing in the big leagues this year] is not in the game plan or the purpose of him going there. It's not to rush him back for this year.
"It's a lot like Ryan Howard, who's on a similar program. To have some games played, to have some peace of mind, and to also pass the test with the organization that, hey, they're doing everything on the baseball field to play a game. Now they can have their offseason and go about their business and do their routines knowing that in the spring, they're good to go."
Paul Hagen is a reporter for MLB.com. This story was not subject to the approval of Major League Baseball or its clubs.