Dubee says different arm slot behind Doc's wildness
Dubee says different arm slot behind Doc's wildness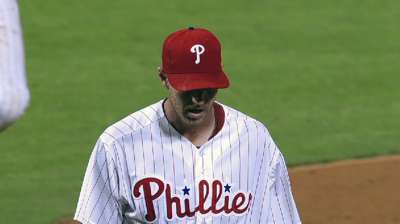 PHILADELPHIA -- Roy Halladay walked five and hit two more in Wednesday's start against the Nationals.
They were the most free passes he had allowed in any game in his career.
But then he wiggled out of trouble, allowing just three hits and one run in six innings.
"He's healthy," Phillies pitching coach Rich Dubee said. "He still struggles. Again, different arm slot. Trying to get into a different arm slot plays into it. We had a good talk the other night. He comes out a little tentative, not certain that he can get his arm in the right position. I think the more he gets on the mound, the better that will be.
"He comes out and we talk. Harvey Dorfman also talked about boxers and when they come out, how some guys will try to feel their way out. The guy that tries to feel his way out, usually gets in trouble. The guy that comes out as the aggressor usually takes charge of the fight. And that's the way Doc has been. He's always been the aggressor. He's always been an aggressive pitcher. It's mound time. That's confidence time. That's being sure that he can get in the same slot and command the stuff the way he wants to.
"I'm very encouraged," Dubee added. "I said the other day, give me three names you think would be pitching now if they had surgery in May. Give me three names of pitchers in the big leagues that would probably be pitching right now. It'd be hard to come up with three."
Todd Zolecki is a reporter for MLB.com. This story was not subject to the approval of Major League Baseball or its clubs.