Sandberg happy with Rollins' play
Sandberg happy with Rollins' play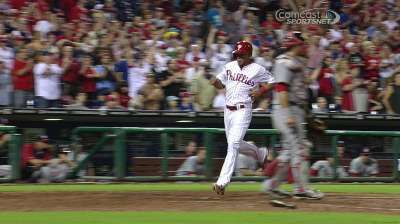 PHILADELPHIA -- Ryne Sandberg has spoken his mind about the improvements he wants to see from Jimmy Rollins.
Sandberg said Tuesday he has seen plenty.
"I've seen the base on balls, I've seen the working the counts," Sandberg said at Citizens Bank Park. "He's gotten on base with walks and he's applied his baserunning. I've also seen him with more balls being hit up the middle. I think he's had three to four opposite-field hits, from both sides of the plate. So I see him working on some things in the cage and applying those into the game. But he's also been a spark, a spark running the bases and with some key hits."
Rollins hit .239 (11-for-46) with five doubles, two RBIs and three stolen bases in 13 games prior to Tuesday night's contest against Washington, but he also had 12 walks to give him an impressive .397 on-base percentage.
Sandberg started Freddy Galvis at shortstop Tuesday. It was the fourth time in 17 games Rollins did not start.
Asked if playing somebody like Galvis could keep Rollins engaged, Sandberg said, "I've noticed Jimmy more engaged. I've noticed him being into it. Showing some excitement on the field. Some of these late-inning wins go a long way with everybody, and I think it's rubbed off on Jimmy, also. Jimmy wants to be a big part. I think he's done well."
Todd Zolecki is a reporter for MLB.com. This story was not subject to the approval of Major League Baseball or its clubs.