Howard unlikely to return in final month
Howard unlikely to return in final month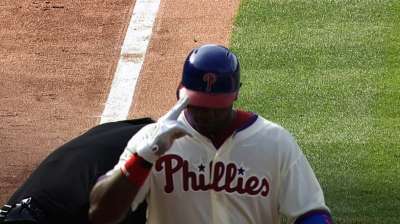 CHICAGO -- First baseman Ryan Howard, who has missed the past couple of months after having left knee surgery, will likely miss the rest of the season, according to Phillies general manager Ruben Amaro Jr.
"I think it's doubtful that he'll be back this year," Amaro said. "I think he's making progress, which is great. He's taking more ground balls and hitting more. He's doing some more running and he's come along.
"I'm not in any rush to have Ryan here if he's not 100 percent."
Manny Randhawa is an associate reporter for MLB.com. Follow him on Twitter at @MannyBal9. This story was not subject to the approval of Major League Baseball or its clubs.