Sandberg pleased with Phillies' young players
Sandberg pleased with Phillies' young players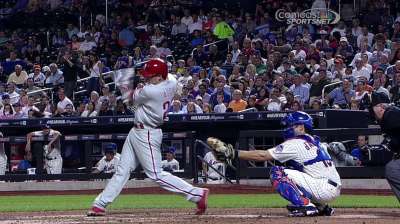 CHICAGO -- Phillies interim manager Ryne Sandberg is pleased with the recent play of many of the club's younger players, and said it's not only nice to see them playing well, but also necessary.
"It's necessary because the strength of an organization is the Minor League players that come up," Sandberg said. "You depend on them and you need them."
The current Phillies roster is composed heavily of younger players. Ten of the 25 players on the roster have played at Triple-A Lehigh Valley at some point this season, including seven pitchers (Justin De Fratus, Jake Diekman, Cesar Jimenez, Ethan Martin, Zach Miner, J.C. Ramirez, and B.J. Rosenberg ), two infielders (Cody Asche and Pete Orr ), and one outfielder (Darin Ruf ).
Jimenez and Rosenberg pitched scoreless innings in Saturday's 4-3 loss to the Cubs, but Miner allowed Starlin Castro's go-ahead home run and lost his first game of the season.
One of the young players that has been making a statement recently is Ruf, who has hit nine homers in August. Another is Asche, who has been sidelined the past two games with a mild right hamstring strain, but performing well of late, hitting .272 with two home runs and 14 RBIs this month entering Saturday.
And in the bullpen, which has been much improved recently, left-hander Diekman and right-hander Rosenberg have been dominant. Diekman has tossed nine scoreless innings of relief in his last nine appearances, giving up five hits and one walk while striking out 14. Since being recalled from Lehigh Valley on Aug. 16, Rosenberg has made eight consecutive scoreless appearances, holding opposing hitters to a .115 batting average (3-for-26).
"We've got Darin Ruf, we've got Cody Asche making a statement at third base for the future, we have De Fratus, Diekman, and Rosenberg, young guys in the bullpen," Sandberg said. "So we've got a little bit of a youth movement going on here, and we're using these games to show what they can do. So it's a mixture of youth now and some veteran guys, [and] that is a good combination. As the team goes forward, those guys will be counted on."
De Fratus -- who had a rough outing on Thursday against the Mets, in which he yielded four runs, though he posted a 1.61 ERA in 12 prior August appearances -- said he and other young players getting playing time are gaining invaluable experience.
"It means a lot moving into next year," De Fratus said. "It does mean a lot for us to get this experience and to go to Spring Training with a familiar feeling of what it takes to perform in the big leagues and to learn from the failures and to learn from the successes."
De Fratus added that many of the younger players came up through the Minor Leagues together and have a bond that will serve them well in the big leagues over the years to come.
"A lot of these guys, we came up together and a lot of us have formed not just a teammate relationship, but a lot of us are good friends who keep in touch a lot throughout the year and through the offseason," he said. "Outside of it being a teammate-to-teammate thing, you like to see your friends succeed. I think that's what it's become, and I think that's something that's going to carry us to success in the future."
Manny Randhawa is an associate reporter for MLB.com. Follow him on Twitter at @MannyBal9. This story was not subject to the approval of Major League Baseball or its clubs.