Brown leaves game with Achilles injury
Brown leaves game with Achilles injury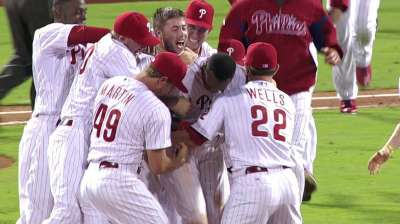 CHICAGO -- Phillies outfielder Domonic Brown left Friday's game against the Cubs in the sixth inning due to soreness in his right Achilles.
Brown left Philadelphia's game against the D-backs on Aug. 24 with inflammation in the right Achilles, and returned to the lineup for Thursday's game against the Mets.
"It feels exactly the same way it did the first time," Brown said. "I'm probably going to feel it the rest of the year. I'm going to take my time and see where I'm at tomorrow when I come in."
Manny Randhawa is an associate reporter for MLB.com. Follow him on Twitter at @MannyBal9. This story was not subject to the approval of Major League Baseball or its clubs.