Ruf gets rare night off against Mets
Ruf gets rare night off against Mets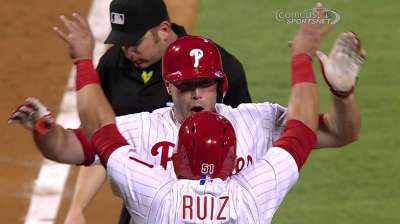 NEW YORK -- Ryne Sandberg has used 13 lineups in 13 games, which hasn't been the plan. But when a team is trying to get a look at different personnel for the future, it just happens to work out that way.
Darin Ruf had started the first 12 of those games before getting the night off Wednesday against the Mets at Citi Field. It was Ruf's first game off since July 21, snapping a streak of 33 consecutive games started.
"He's done a heck of a job," Sandberg said. "He's played the schedule -- day games, night games. He's moved around to different positions and really played hard and maybe this is a day to quicken up his bat a little and then get him back after it. He's had a good string of games and it's a good thing [for a day off] because he's done well."
Ruf entered the night with nine homers this month, which are the most in the National League and third-most in baseball. He also has played first base, left field and right field.
"He's handled it great," Sandberg said. "I saw him a little bit at first base during the spring and I liked his moves over there so I wasn't surprised about first base. In left field, he struggled some in Spring Training and then gradually got better before he was sent down.
"I had heard he came a long way with left field and then he's here and he's in right field with no experience and he's been great. It's been a pleasant surprise and he's done well at all three positions along with a surprising arm throwing from the outfield. That surprised me a lot. I didn't know he had an arm like that."
Todd Zolecki is a reporter for MLB.com. This story was not subject to the approval of Major League Baseball or its clubs.