Sandberg has Phillies reporting to games earlier
Sandberg has Phillies reporting to games earlier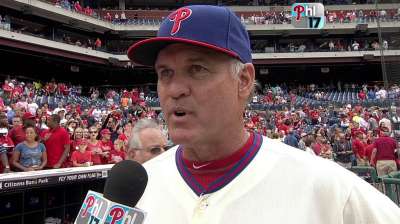 PHILADELPHIA -- One small but noteworthy change Ryne Sandberg has made in his first week as interim manager with the Phillies is having players report to the ballpark four hours before 7 p.m. games.
In the past, players only needed to be ready for their group stretch, which typically happened after 4 p.m.
"I just want to know when everybody is here, in case I want to get everybody together," Sandberg said. "I think that works well in forming a team and making it a team concept. So, that took place."
Sandberg said players have been receptive to it. Not that they have a choice.
"Nobody has been late," he said. "It's an easy concept. It's a done deal. It's about focusing on the games. For me, it's a non-issue."
Sandberg said the report time for day games will be different, with the ability to adjust.
"There are some breaks to that and some common sense," he said.
Todd Zolecki is a reporter for MLB.com. This story was not subject to the approval of Major League Baseball or its clubs.