Sandberg seeks clarification on balk call
Sandberg seeks clarification on balk call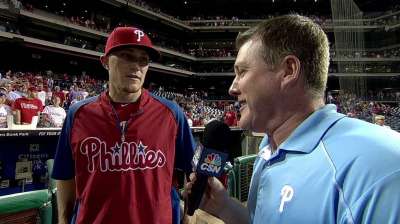 PHILADELPHIA -- Phillies left-hander Jake Diekman got called for an unusual balk in the eighth inning of Monday's 5-4 win over the Rockies at Citizens Bank Park.
Diekman was working out of the stretch with runners on first and second when Nolan Arenado wanted to call time, and made a movement out of the batter's box, although he never completely left the box and time had never been called. Diekman began his delivery to the plate, but upon seeing Arenado move out of the box he believed time had been called and stopped his delivery. Home-plate umpire Jim Joyce called a balk.
Phillies interim manager Ryne Sandberg and Joyce had three conversations about the call during the game. Sandberg's contention was that a hitter cannot induce a balk. Rule 6.02(b) states: "If after the pitcher starts his windup or comes to a "set position" with a runner on, he does not go through with his pitch because the batter has stepped out of the box, it shall not be called a balk."
Joyce spoke about the call following the game with Randy Marsh, who is Major League Baseball's director of umpires. Marsh is in town this week.
"I implemented the balk wrong," Joyce said before Tuesday's game. "The rule actually states if the batter leaves the batter's box and causes the pitcher to hesitate or stop, a balk shall not be called. I got probably a little more technical on that. He didn't leave the box, but the spirit of the rule is if you make the pitcher stop by some sort of action by the batter, a balk shall not be called. I probably was a little overzealous in throwing out that balk."
Joyce said he spoke with Sandberg and Rockies manager Walt Weiss about it before Tuesday's game.
"You could have the hitter step out, and if the pitcher delivers a weaker pitch they could step back in and whack it, if they're just trying to deliver a pitch," Sandberg said. "So, for me, it's a total disadvantage for the pitcher there in all regards to the play. The rule states that, and I think that's why the rule is what it is."
In Tuesday's 5-3 loss to the Rockies, two more balks were called, but both were against Colorado reliever Rex Brothers, who didn't come to a complete stop in his delivery from the stretch in the same at-bat in the eighth inning.
Todd Zolecki is a reporter for MLB.com. This story was not subject to the approval of Major League Baseball or its clubs.