Ruiz swings hot bat in two-spot Monday
Ruiz swings hot bat in two-spot Monday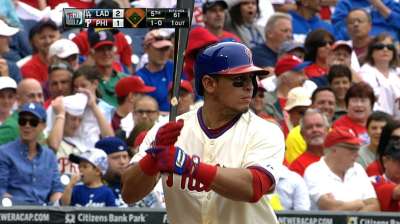 PHILADELPHIA -- Ryne Sandberg isn't afraid to shake up his lineup a little bit.
He hit Carlos Ruiz second in Monday's series opener against the Rockies at Citizens Bank Park, just the third time in Ruiz's career that he has hit second. Ruiz rewarded his manager by going 2-for-4 with a solo homer in the Phillies' 5-4 win.
"I think his stroke is conducive to batting second," Sandberg said before the game. "I like the at-bats he's had of late. He's a guy that can handle the bat and a situational guy. That could play into his strengths, depending on the game situation, whether a ball needs to be driven to right field. He handles the bat real well. I like him in that spot tonight."
Ruiz entered the night hitting .265 with six doubles, two home runs, 14 RBIs, a .635 OPS in 200 at-bats. He is hitting .300 (15-for-50) with two doubles, two homers, five RBIs and an .800 OPS in 16 games since July 28.
"I feel like he's been catching up, or had that mindset most of the year, and he does seem more relaxed at this time," Sandberg said of Ruiz's recent success. "He's also shown it behind the plate, with the way that he's handled himself and he's got a good attitude. He's got the energy back that he normally shows."
Sandberg said he told his players Friday, when he replaced Charlie Manuel, to be ready. That included lineup changes.
"I'll make the adjustments day to day," he said. "I enjoy that, thinking about that. A lot of times, after the game on the ride home, the wheels start turning about the lineup and in the morning when I wake up. That's a day-to-day thing. If there's a rest to be needed on some day games, those kind of things come in to play -- who's pitching, how the guys are doing at the plate, that type of thing."
Todd Zolecki is a reporter for MLB.com. This story was not subject to the approval of Major League Baseball or its clubs.