Rollins enduring tough season at plate
Rollins enduring tough season at plate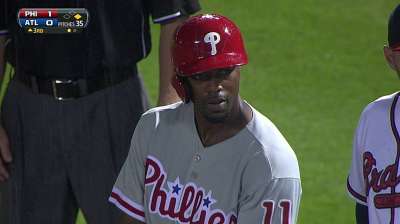 PHILADELPHIA -- This season has not been kind to the Phillies.
It cost former manager Charlie Manuel his job Friday, and Jimmy Rollins is headed toward the roughest season of his 14-year career.
Rollins, who did not start in Sunday's 3-2 victory over the Dodgers, is hitting .248 with a .305 on-base percentage, .339 slugging percentage and .644 OPS in 508 plate appearances. He is on pace for the second-lowest on-base percentage, the lowest slugging percentage and the lowest OPS of his career.
One of Phillies interim manager Ryne Sandberg's many challenges is trying to turn around Rollins.
"I've had good talks with Jimmy," Sandberg said. "He's a big piece of the puzzle. That'll be my job from here on out, no doubt about it. That goes for everybody, but him in particular. He is a big piece of the puzzle. He's a good player. That's a challenge of mine, and we'll stay after that."
Todd Zolecki is a reporter for MLB.com. This story was not subject to the approval of Major League Baseball or its clubs.