Young comes off bench to help key Phils' win
Young comes off bench to help key Phils' win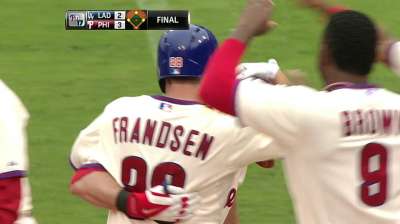 PHILADELPHIA -- Michael Young did not start Sunday's game against the Dodgers because of a sore left Achilles, but he pinch-hit in a key at-bat with the bases loaded and one out in the ninth inning.
Young hit a ground ball to Dodgers shortstop Hanley Ramirez, who booted the potential double-play ball to allow the winning run to score.
"I've dealt with it in the past before, probably the last several seasons," Young said before the game about his injury. "This season it's felt the best, but there have been times where it just locks up and I've got to get off it.
"Once I get off it, it literally feels much, much better, almost to the point where I really don't feel it at all."
Young said afterward it remained a little sore, but "was better than I thought it would be."
Todd Zolecki is a reporter for MLB.com. This story was not subject to the approval of Major League Baseball or its clubs.