Day 2 much smoother for Sandberg than Day 1
Day 2 much smoother for Sandberg than Day 1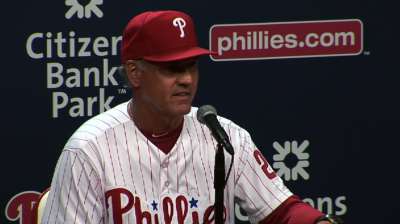 PHILADELPHIA -- Ryne Sandberg found Day 2 on the job to be much smoother than an emotional and surreal Day 1.
"The second day feels like back to business, a game to be played," Sandberg said before Saturday night's game against the Dodgers at Citizens Bank Park. "Really, the most important thing is the game every night, and that's the focus now. We have a long stretch of games, but they are important games for the players individually and the organization. That's the focus now: back to work. We want to improve, show improvement on the field, and it starts with work and routine. It starts with the players playing better on the field."
After arriving home on Friday following his debut as interim manager, Sandberg finally checked his cell phone. He had 185 messages.
"How they got my number, I have no idea," he said. "The number evidently is out there floating around, and everyone got a hold of it."
Sandberg heard from people ranging from high school friends to former teammates to opponents during his Hall of Fame career with the Cubs. Among the former Cubs teammates was Larry Bowa, who played for and managed the Phillies. The two are close.
"There were a lot of players I've played against that I was surprised to hear from," Sandberg said. "But really, the biggest thing was, how did they get my phone number?"
Todd Zolecki is a reporter for MLB.com. This story was not subject to the approval of Major League Baseball or its clubs.