Halladay ready to prove statistics wrong
Halladay ready to prove statistics wrong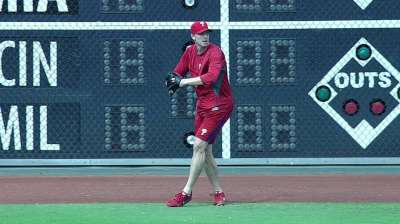 ATLANTA -- Thursday will be a big day for right-hander Roy Halladay, who will make his first rehab start with the Rookie-level Gulf Coast League Phillies at noon at Carpenter Complex in Clearwater, Fla.
Halladay, who is recovering from surgery on his right shoulder, might make just two rehab starts before he rejoins the Phillies' rotation.
Halladay's comeback will be fascinating to watch over the final few weeks of the regular season as the Phillies evaluate his abilities and determine if they want to re-sign him. Halladay, 36, will be a free agent after finishing out a three-year, $60 million contract extension.
"I'm looking forward to it," manager Charlie Manuel said of Halladay's return to the rotation.
Though research has shown that pitchers of that age do not have successful comebacks following any type of shoulder surgery, major or minor, Halladay -- who went 2-4 with an 8.65 ERA in seven starts before landing on the disabled list -- hopes to disprove that.
"From what I've seen, he's got great range of motion in his arm," Manuel said. "He's more loose. He's more free. He can get on top and get extended, whereas before he had to kind of push the ball, and his arm angle was different. Now he gets through the ball. His arm is definitely quicker, faster.
"Halladay's work ethic definitely comes into play. Ain't nobody going to work any harder than Halladay. He's going to put everything in it that he possibly can."
In other recovery news, right-hander Jonathan Pettibone -- working his way back from a strained right shoulder -- also makes his first rehab assignment on Thursday, with Double-A Reading.
Todd Zolecki is a reporter for MLB.com. This story was not subject to the approval of Major League Baseball or its clubs.