Phils have talented young options in bullpen
Phils have talented young options in bullpen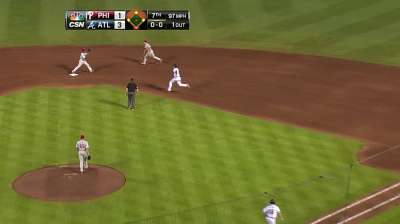 ATLANTA -- The Phillies are looking for somebody to step up in the bullpen in the final weeks of the season.
Two have been impressive recently: right-hander Justin De Fratus and left-hander Jake Diekman.
De Fratus is 2-3 with a 3.98 ERA in 41 appearances, but he has a 0.82 ERA in 11 outings since July 19. Diekman is 0-3 with a 3.97 ERA in 28 appearances, but left-handers have hit just .184 against him, whereas right-handers have hit .375.
"I see guys that have talent," manager Charlie Manuel said. "Our guys need experience."
Todd Zolecki is a reporter for MLB.com. This story was not subject to the approval of Major League Baseball or its clubs.