Wells looks to make positive impression on Phils
Wells looks to make positive impression on Phils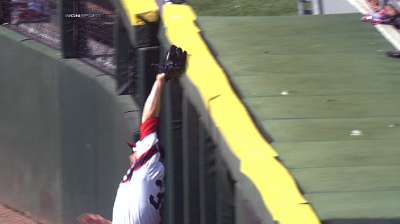 ATLANTA -- Ah, the glamorous life of a big leaguer.
The Mariners designated outfielder Casper Wells for assignment on March 31. The Blue Jays claimed him on April 10, designated him for assignment on April 15 and traded him to the A's on April 22 for cash considerations. The A's designated him for assignment on April 28 and traded him to the White Sox for cash considerations the following day.
He remained with the White Sox until the Phillies claimed him on Thursday.
"These things happen," said Wells, who started for the Phillies for the first time on Tuesday night against the Braves at Turner Field. "I never expected this year to go the way it has; it just goes to show you anything can happen. You have to believe everything happens for a reason -- for a positive reason, too. I'm here on the club, there's nowhere I'd rather be than here. That's the kind of mind-set I have."
For the Phillies, the final few weeks of the season will be about evaluation. They said last week that they have liked Wells for some time because he can play everywhere in the outfield and has the ability to hit home runs. So if he does enough in these final few weeks, the Phillies could bring him back next season as a reserve outfielder.
"I just want to, first and foremost, be in the big leagues. Wherever," he said. "I'm not in the position to say I want to be in one [position]. Obviously, it's comforting in one spot, I'm sure, but I've always prepared for all areas. It makes me a little more versatile."
"I think he has to play," manager Charlie Manuel said. "He has to get some playing time. We have to find a way to get him in there whenever we can."
If Wells shows that versatility, maybe he can open Spring Training with the Phillies next year in Clearwater, Fla., then break camp with the big league club.
And maybe then he can get a little more comfortable.
Wells kept his things packed in his truck in Arizona early this season because he saw no reason to send the truck anywhere. He finally dispatched it to Chicago in June.
And now?
"It's on its way to Philly, with everything in it," he said.
Todd Zolecki is a reporter for MLB.com. This story was not subject to the approval of Major League Baseball or its clubs.