Asche gets first start, could see time in right
Asche gets first start, could see time in right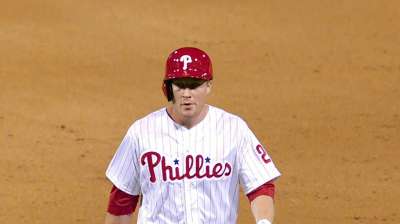 PHILADELPHIA -- Cody Asche got his first Major League start at third base Wednesday, and the 23-year-old is expected to get a fair amount of looks there for the rest of the season.
Asche did play some second base in his first professional season in 2011, but since then he has been a third baseman. However, Phillies manager Charlie Manuel said the team has had some preliminary discussions about Asche getting some time in right field before the end of the year.
"I don't know if we will, but we will talk about it," Manuel said Wednesday.
Asche was called up Tuesday after hitting .295 in Triple-A and hit sixth in the Phillies' lineup Wednesday. Asche was recently ranked by MLB.com as the No. 7 prospect in the Phillies system, but was the second-highest third baseman on the list. Maikel Franco -- who is hitting .373 in 35 games for Double-A Reading -- was ahead of him.
Franco is just 20 years old, and general manager Ruben Amaro Jr. said he thinks Franco will stay put at Double-A for the time being. Amaro added that he thought Franco has made "extraordinary progress" this season and that he could compete for the Phillies' third-base job next spring.
"I think he's learning. I think he's a very advanced hitter; it'll be interesting to see how he progresses," Amaro said. "Who knows, we may end up having a battle out there at third base next year in Spring Training."
Michael Young remained on the Phillies' roster as Wednesday's non-waiver Trade Deadline came and went, and with Darin Ruf also on the roster, the Phillies have an abundance of infielders. Ruf has recently been playing left field with Domonic Brown on the disabled list. But once Brown returns, which Amaro said should be in a week, there will be one fewer spot in the lineup.
This is where Asche potentially moving to right field comes into play. Tuesday, Asche said he had never taken fly balls in the outfield as a professional, but said he was open to doing whatever the team asked him to do.
"We haven't really talked about it extensively," Amaro said. "He's athletic enough to do that, but he's our third baseman today and that's where we'll keep him for now."
Stephen Pianovich is an associate reporter for MLB.com. This story was not subject to the approval of Major League Baseball or its clubs.