Hagen in good humor after throwing out first pitch
Hagen in good humor after throwing out first pitch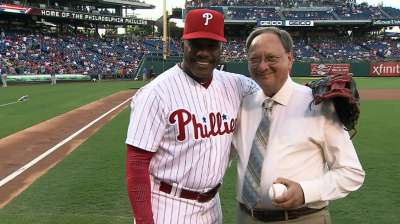 PHILADELPHIA -- This is why MLB.com's Paul Hagen is one of the best baseball writers in the business.
He threw out the ceremonial first pitch before Tuesday's series opener against the Giants at Citizens Bank Park. Hagen just returned from Cooperstown, N.Y., where he was honored by the National Baseball Hall of Fame as the 2013 J.G. Taylor Spink Award winner.
Hagen bounced the pitch to Phillies first-base coach Juan Samuel a few feet in front of the plate.
"Your lead should be, 'Proving why he made a wise choice in becoming a writer as opposed to trying to play ...'" Hagen said afterward.
Todd Zolecki is a reporter for MLB.com. Stephen Pianovich is an associate reporter for MLB.com. This story was not subject to the approval of Major League Baseball or its clubs.