Absent starters, Phils' offense continues to struggle
Absent starters, Phils' offense continues to struggle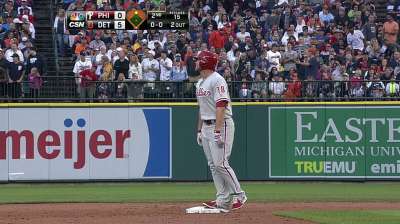 DETROIT -- The Phillies' offense has been toothless for more than a week, and it is easy to see why.
The club is without left fielder Domonic Brown, first baseman Ryan Howard and center fielder Ben Revere. Each is on the disabled list. It has been playing reserves and others that started the season in the Minor Leagues in their place.
The result is just 10 runs scored during a seven-game losing streak entering Sunday's series finale against the Tigers at Comerica Park. It is their lowest output over a seven-game stretch since they scored 10 runs from May 16-22, 2011. But that team went 3-4 in that offensive drought.
The Phillies also entered Sunday afternoon without a home run in six consecutive games. It is their longest homerless streak since a six-game stretch from June 1-7, 2011. They have not gone seven consecutive games without a home run since May 25-31, 2010.
Todd Zolecki is a reporter for MLB.com. This story was not subject to the approval of Major League Baseball or its clubs.