In final year of contract, Manuel talks future
In final year of contract, Manuel talks future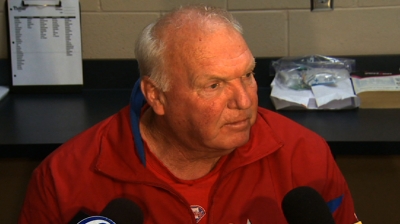 DETROIT -- This is Charlie Manuel's ninth season as Phillies manager and it could be his last.
He is in the final year of his contract, and it would not be a surprise to see the Phillies move in a different direction in 2014, especially if the team finishes below .500 for the first time since '02. This season has been a struggle as the team entered Friday night's series opener against the Tigers on a five-game losing streak and four games under .500 with the non-waiver Trade Deadline looming Wednesday.
Asked if he has thought about his future, Manuel said Friday, "I'm going to be somewhere. How about that? We'll see. It's OK. I've got good options."
Manuel has never finished a season as a big league manager with a losing record, but this could be his first.
"I've always said it's basically the team," he said, referring to his previous successes as a manager, which includes one World Series championship, two National League pennants and five NL East titles. "That's our players and things like that. That's kind of how I look at it. Right now we've got guys hurt, but I don't know if that makes any difference or not. We've got some holes, and we have to get better. I think I know -- actually, I know I know -- my philosophy works, and it's been proven if you go look.
"I'm a positive person, but I'm also realistic about things, too. Every year I've known what kind of team I've had. At one time I would say we had some of the best teams I've ever been around -- attitude-wise and playing-wise."
This would not be one of those teams.
Manuel also pointed out he has less say in constructing teams.
"I feel like that's a change in baseball the last five or 10 years -- you used to have more say as a manager," he said. "You could pick some of your bullpen, pick some of your bench players. I think the last five or six years that's kind of been the front office's [decision] that they like to pick the team. I've talked to other managers, and that's how it's pretty much been like. Before, you definitely were more involved and had a say.
"It seemed like our organization would always go get us some players. I always thought, 'Why should I worry about my contract?' Because I would look in the stands and we have a full house, and we have all this talent on the field, we'd spend money and I would know we'd always have talent. And to this day -- look, I have to have money as much as anyone else, but I am definitely not a money guy. I don't have to be the highest-paid manager. I just want to be treated fairly."
Todd Zolecki is a reporter for MLB.com. This story was not subject to the approval of Major League Baseball or its clubs.