Amaro indicates Utley likely to remain in Philly
Amaro indicates Utley likely to remain in Philly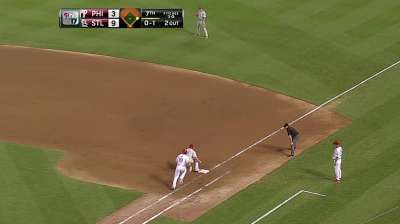 ST. LOUIS -- Ruben Amaro Jr. barely broke stride at Busch Stadium on Thursday afternoon, when a reporter asked if he had a moment to talk.
"I can't," he said. "I'm busy today."
He spoke later, but the Phillies' general manager is probably busy with plenty of things, considering the Trade Deadline is Wednesday and the Phillies entered Thursday's series finale against the Cardinals with a four-game losing streak. But CSNPhilly.com also reported Amaro has been talking with Chase Utley about a contract extension, which seems more likely to happen than not at this point.
"Come on, you know me," said Utley, when asked about any negotiations.
"We don't talk about those things," Amaro echoed later.
But asked if he expects Utley to be in a Phillies uniform beyond Wednesday's Trade Deadline, Amaro said, "Oh, I think so."
Utley spoke with MLB.com about his future with the Phillies just before the All-Star break. He said then he would be open to negotiations during the season.
"I think we have a good relationship," he said. "We understand each other. Whatever is best is best, if that makes sense."
He also expressed his desire to remain in Philadelphia.
"I've never envisioned wearing another team's uniform," he said. "And I know there's a lot of speculation, but I still haven't ... that still hasn't changed over the last month. I've talked to Ruben. I've told him what I think about the organization and city of Philly. That's kind of where we're at. ... Obviously winning is an important part of what I want to do with my future. But I think there definitely are some pieces in this room that can win."
Utley entered Thursday's game hitting .286 with 16 doubles, four triples, 13 home runs, 36 RBIs, a .520 slugging percentage and .866 OPS. He has not had a higher slugging percentage since 2008 (.535). He has not had a higher OPS since 2009 (.905). He also is considered a team leader in the clubhouse, a presence this clubhouse cannot afford to lose.
And while Utley has battled chronically injured knees in recent seasons, they have not been an issue this year. Utley said a couple weeks ago he thinks he has those problems under control, pointing to his offensive production as proof.
There are plenty of reasons to believe an extension will happen, and possibly soon. The Phillies could be sellers before the Trade Deadline but announce an extension for Utley to show the fan base there will not be an extended rebuilding process and that they will try to win as early as 2014. They did something similar last July with left-hander Cole Hamels.
But even if nothing materializes soon, folks in the organization believe there is a strong enough desire by both parties to continue this relationship beyond this season.
Todd Zolecki is a reporter for MLB.com. Zack Meisel is a reporter for MLB.com. Follow him on Twitter @zackmeisel. This story was not subject to the approval of Major League Baseball or its clubs.