Brown to miss time with concussion-like symptoms
Brown to miss time with concussion-like symptoms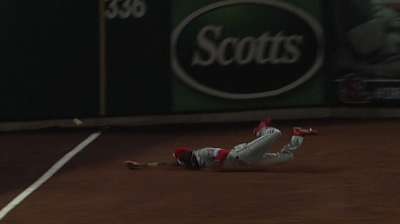 ST. LOUIS -- The Phillies have lost All-Star left fielder Domonic Brown for at least two games, and it could not come at a worse time.
The Phillies are in desperate need of victories before the July 31 Trade Deadline, but they said Wednesday that Brown will miss at least Wednesday's and Thursday's games because of concussion-like symptoms. Brown slammed into the turf trying to make a catch on Carlos Beltran's triple in the seventh inning of Tuesday's 4-1 loss to the Cardinals at Busch Stadium. He complained of dizziness after the game.
It is standard protocol for a player to take a battery of tests to determine if he has suffered a concussion. Brown took those tests Wednesday and will learn the results Thursday, which means he cannot play at the earliest until Friday against the Tigers.
"I feel good," Brown said. "I feel like I'm back to normal, honestly. I was just a little dizzy yesterday. That's pretty much it. I didn't have any headaches."
But if the tests say he has a concussion, he will need to be placed on the seven-day concussion disabled list.
The Phillies can hardly afford to lose Brown, who is hitting .271 with 24 home runs, 69 RBIs and an .847 OPS in 402 plate appearances this season. The Phillies started Laynce Nix in left field Wednesday for the first time this season. It is his first start since July 6. Nix, who has started just 16 games this season, was hitless in 11 at-bats in July and had hit .138 since April.
Losing Brown, even if it is just two games, is a blow when the Phillies can least afford one.
"You can't afford blows, but you've got to be able to take a blow, though," Phillies manager Charlie Manuel said. "We're supposed to take the blows."
Todd Zolecki is a reporter for MLB.com. This story was not subject to the approval of Major League Baseball or its clubs.