Scherzer doesn't equate Galvis with Braun in remarks
Scherzer doesn't equate Galvis with Braun in remarks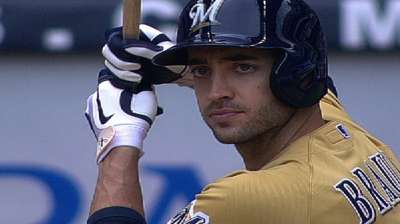 ST. LOUIS -- Tigers pitcher Max Scherzer mentioned Phillies infielder Freddy Galvis on Wednesday, when he discussed Ryan Braun's 65-game suspension for violations of Major League Baseball's Joint Drug Prevention and Treatment Program.
Scherzer, who is a union representative, said Braun's punishment "doesn't fit the crime."
"I think it's absolutely despicable how he handled it," Scherzer told reporters. "I'm glad he got caught. He went out of his way to try to bring people down and cover up his lies, and now he looks like Lance Armstrong."
Scherzer said he thinks Braun should forfeit the $113 million remaining on his contract. He said if players have to forfeit their contracts, it could deter them from cheating because there would be monetary consequences.
"The only problem with that is the difference between Ryan Braun and Freddy Galvis," Scherzer said.
Baseball suspended Galvis 50 games last season for testing positive for performance-enhancing drugs. But Scherzer said Galvis "unintentionally used a foot cream that had a trace amount of steroids in it. That's a situation we could all be in. I feel there's a big difference between the Freddy Galvis thing and what Ryan Braun has done."
Todd Zolecki is a reporter for MLB.com. This story was not subject to the approval of Major League Baseball or its clubs.