Braun's lofty stats vs. Phils suspect amid suspension
Braun's lofty stats vs. Phils suspect amid suspension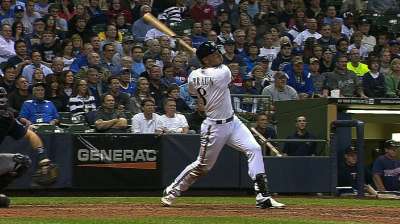 ST. LOUIS -- Brewers left fielder Ryan Braun has caused nightmares for plenty of pitching staffs in his big league career, but none in the National League like the Phillies.
His 1.120 OPS in 186 plate appearances against the Phillies is his best mark against any NL team. It also is the ninth-highest mark against the Phillies by any player in history. Of course, those numbers fall under serious suspicion once he accepted a suspension through the remainder of 2013 for violations of Major League Baseball's Joint Drug Prevention and Treatment Program.
"I'm for cleaning up the game," Phillies manager Charlie Manuel said. "I want everything about it good. Baseball is something that I love and respect. It's been tremendous to me. I want it played right. I like both teams to play right. I like to see good players. Basically, I just want the game clean."
Todd Zolecki is a reporter for MLB.com. This story was not subject to the approval of Major League Baseball or its clubs.