Ruf starts at first base, will get a lot of playing time
Ruf starts at first base, will get a lot of playing time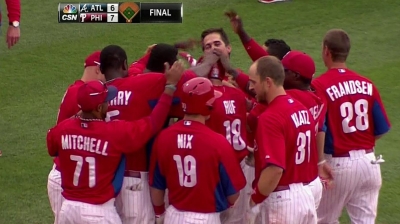 PHILADELPHIA -- In a 24-hour span, Darin Ruf went from Triple-A batting practice to having two hits in two Major League appearances this season under his belt.
Ruf was recalled from Triple-A Lehigh Valley by the Phillies on Saturday to replace Ryan Howard on the 25-man roster. Howard's sore left knee forced him to the disabled list.
Lehigh Valley was in Scranton on Saturday, and Ruf had to make the drive of two hours and change from Scranton to Citizens Bank Park by himself. The announcement of Howard's DL stint came close to game time, so Ruf had a late jump and said he did not arrive at the ballpark until the fifth inning.
"Our trainer came up and told me to get to Philly as soon as possible," Ruf said. "Derek Jeter was playing [Saturday] in Scranton, so it was a little tough getting a car in there, but I finally made it."
Ruf entered Saturday night's 13-4 loss to the Baves in the eighth and was 1-for-2 with a single. He followed that up with a 1-for-2 showing in Sunday's 7-3 win. He doubled, walked and scored twice.
The 26-year-old started at first base and hit seventh in the order. Though he came out of the game in the seventh, manager Charlie Manuel was pleased with the way Ruf played in his hectic weekend. Manuel said he expects Ruf to see plenty of action at first base with Howard injured.
"I think he's going to get a lot of playing time there," Manuel said. "More than likely, yeah [he's going to be the first baseman with Howard out]. That's why we called him out."
Ruf also appeared in 12 games for the Phillies after a September callup last season. He hit .333 (11-for-33) with two homers in his short spell.
Some fans may have hoped to see Ruf at Citizens Bank Park earlier than the first week of July, as the first baseman/left fielder battled for a spot on the roster during Spring Training. Ruf hit .246 with two homers and six RBIs and was sent to Triple-A.
"I just put too much pressure on myself or something or other," Ruf said of his spring. "I just settled in as time went on. It was still early, starting a couple of weeks earlier than I was used to, it took me a little bit longer to get back into the swing of things. I'm happy with the way I finished and the progress I made."
Ruf was called up last season after hitting 38 homers by the end of August for Double-A Reading, but his numbers were not as impressive this season. He's hit .266 with seven homers in 82 games. The 6-foot-3 right-hander did deal with a thumb injury, but said he is 100 percent healthy.
Todd Zolecki is a reporter for MLB.com. Stephen Pianovich is an associate reporter for MLB.com. This story was not subject to the approval of Major League Baseball or its clubs.