Despite issues with lefties, Howard faces one Friday
Despite issues with lefties, Howard faces one Friday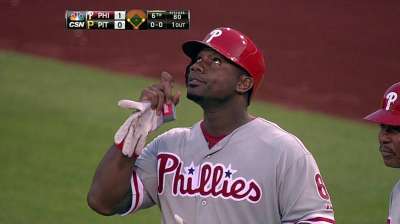 PHILADELPHIA -- Phillies first baseman Ryan Howard, who has had a dismal time against left-handed pitchers this season, was in the lineup Friday night against Braves southpaw Paul Maholm.
Howard was hitting .266 this season with a .777 OPS entering Friday, but he had a .169 average and .503 OPS against lefties. His OPS against lefties ranked 194th out of 202 qualifying players. His .596 OPS against left-handers from 2011-13 ranked 222nd out of 233 players. In the third inning of the series opener, Howard hit a deep solo shot off Maholm.
He was held out of the starting lineup four times on the recent 10-game trip -- three times against a left-handed starter. Howard has also dealt with knee trouble this season, which manager Charlie Manuel said is the reason he sits the first baseman.
The 33-year-old slugger is in the second season of a five-year, $125 million contract, and earlier in the week, general manager Ruben Amaro Jr. said in a radio interview "if Ryan Howard is now relegated to being a platoon player, he's a very expensive platoon player."
"He needs to have more success against left-handers," Amaro said Friday. "I think he will, but he hasn't. I think he needs to."
Howard had 10 homers and 42 RBIs entering the series opener. He had 75 hits, 62 of which have came off of right-handed pitchers, and Howard had an .878 OPS against right-handers.
The Braves flip-flopped Paul Maholm and Tim Hudson's starts, but Manuel said Howard would have been in the lineup Saturday if Maholm was pitching. Manuel said he thinks Howard will be in the lineup during every game of the 10-game homestand that takes the Phils into the All-Star break.
"I don't look at Ryan Howard as a platoon player yet," Manuel said. "I think that he can still hit and he can still can going. I think his knee has been bothering him and things like that. If we're going to rest him against somebody, it's going to be lefties."
Todd Zolecki is a reporter for MLB.com. Stephen Pianovich is an associate reporter for MLB.com. This story was not subject to the approval of Major League Baseball or its clubs.