Next 10 days may decide if Phillies buy or sell
Next 10 days may decide if Phillies buy or sell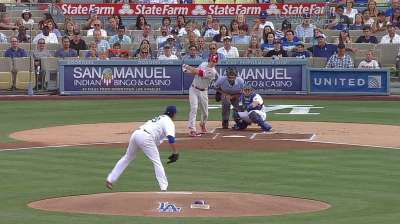 PHILADELPHIA -- Ruben Amaro Jr. spoke in short, declarative sentences Friday afternoon at Citizens Bank Park.
Why waste words with time running short?
"These next 10 days are big," the Phillies general manager said.
The Phillies opened a 10-game homestand Friday with a three-game series against the Braves. The Phillies began the series 41-45, 8 1/2 games behind the first-place Braves in the National League East and 8 1/2 games behind the Reds for the second NL Wild Card.
A winning record these next 10 games going into the All-Star break is must, although Amaro declined to call this "make or break." But if the club struggles at home, Amaro did say the makeup of the team could change shortly thereafter.
"I hope we're adding to this club than subtracting," he said. "That's the goal, but as I always say and I've been saying the same thing, the players will dictate it."
So a 5-5 mark does not cut it?
"Probably, but we'll have to see," he said. "But that depends how we get to 5-5, you know?"
Players like Cliff Lee, Jonathan Papelbon, Chase Utley, Michael Young, Delmon Young and Carlos Ruiz will be discussed ad nauseam in the coming weeks. Teams looking to add talent for the stretch run certainly could use one or more of those players.
"Some guys are a lot less touchable than others," Amaro said. "But we'll keep our eyes open, our ears open. We've had a lot of discussions in the last three or four days. As you can imagine, we have a lot of interest in some pretty good players we have on our club. And that will continue."
Amaro said those discussions have picked up, with the Phillies initiating some of those calls.
A name on everybody's mind is Utley, who is in the final year of his contract. Utley is playing well, with his .521 slugging percentage his highest mark since 2008. But Utley is the heart and soul of the clubhouse, so losing him could cause a dramatic shift in the clubhouse atmosphere.
It would be tough to trade him, even if he could bring a top prospect or two.
"Really tough," Amaro said. "Really tough. Again, I see him as a Phillie for life. But I'm not the most stubborn human being on the planet."
Amaro is accepting phone calls, emails and text messages about his players. These next 10 games could decide if he pulls the trigger.
Todd Zolecki is a reporter for MLB.com. Stephen Pianovich is an associate reporter for MLB.com. This story was not subject to the approval of Major League Baseball or its clubs.