Howard gets two-day respite against LA lefties
Howard gets two-day respite against LA lefties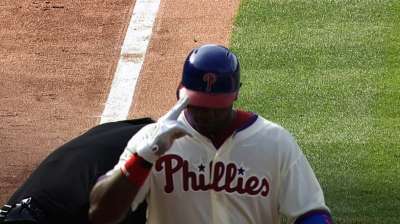 LOS ANGELES -- Ryan Howard took full responsibility for Thursday's loss to the Dodgers, although there is plenty of blame to spread these days.
Howard is hitless with eight strikeouts in his last 16 at-bats, so with the Phillies facing a pair of left-handers Friday and Saturday and Howard's production against lefties among the worst in baseball the past three seasons, Phillies manager Charlie Manuel decided to bench Howard two games to clear his head and hopefully get him back on track.
Manuel and hitting coaches Steve Henderson and Wally Joyner met with Howard to tell him their plan before Friday's game. Howard declined comment.
"He understands," Manuel said. "He was fine with it. We just want him to start feeling better at the plate against lefties, feeling better and seeing them better."
Howard, 33, is hitting .268 with 20 doubles, two triples, 10 home runs, 41 RBIs and a .789 on-base-plus-slugging percentage. He is on pace to finish with just 20 homers and 82 RBIs, disappointing numbers for a highly paid run producer in the second year of a five-year, $125 million contract. Howard's OPS ranks 66th out of 162 qualifying players in baseball.
His .796 OPS from 2011-13 is 61st out of 184 players. His .599 OPS against left-handers in that span is 218th out of 229 players with at least 250 plate appearances.
Asked if he thinks Howard can be productive through much of the remainder of his contract, Manuel said, "I know he can still be a productive hitter. When I say productive I mean like power and knocking in runs and things like that. He's sitting there right now with 40 and we're talking about how bad he's hit offensively. He's sitting there with 40 RBIs. If we just run a streak where he could get hot he could pull right up in the there. I think the talent is still there. I think the power is still there. I think his leg is going to get better. I don't know if his leg is actually 100 percent yet, but the doctors say he's doing real good. He actually came back a little earlier than what he said."
Phillies general manager Ruben Amaro Jr. said Howard's track record gives him hope Howard can be productive through the rest of his contract, although Howard's production has generally dipped every season since 2009.
"More than anything else, he has to get himself to the point where he is healthy again," Amaro said. "Health means something to these guys mentally. It's hard to play at 100 percent when you're not at 100 percent. The knee issue may have something to do with his ankle originally. One thing is connected to the other. We just have to get him back and healthy. He can still be a very productive player. It's a matter of him getting physically back to 100 percent. He needs to get his mojo back. One works with the other."
Howard missed much of last season recovering from left Achilles surgery. He has been hobbled this season with a bad left knee, although it has not been bad enough to put him on the disabled list. Amaro said, however, they would consider it if it becomes debilitating.
So Howard will get a chance to rest, relax, clear his mind and work with Henderson and Joyner.
"We're going to do some drills with him," Manuel said. "We're going to do some work with his hitting and also give him some time, let him sit down and kind of clear his head. We'll see where he goes. He'll play Sunday. We're off Monday, when we got to Pittsburgh. And he'll play Tuesday, he'll be back in there and we'll turn him loose."
Todd Zolecki is a reporter for MLB.com. This story was not subject to the approval of Major League Baseball or its clubs.