Phillies great Daulton to have brain surgery
Phillies great Daulton to have brain surgery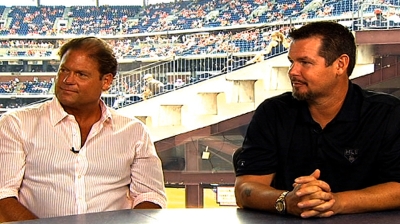 LOS ANGELES -- Former Phillies catcher Darren Daulton, the undisputed leader of the popular 1993 National League championship team, has been diagnosed with two brain tumors and will have surgery next week.
"We're saddened by the news about Darren," Phillies president David Montgomery said in a statement. "Our thoughts and prayers are with him and his family at this time. We, along with our fans, are praying for a full recovery."
Daulton, 51, played with the Phillies from 1983-97 before finishing his career with a World Series championship with the Florida Marlins. He made the National League All-Star team in 1992, 1993 and 1995 and finished in the top 10 in NL Most Valuable Player Award voting in 1992 and 1993.
The Associated Press said Daulton, who had been hosting a radio show on 97.5 The Fanatic in Philadelphia the past four years, had not been feeling well the last few weeks before he saw a doctor.
"Shocked, number one," said Phillies general manager Ruben Amaro Jr., who played with Daulton from 1992-93 and 1996-97. "I'm disappointed, number two. All I can do is think about him and pray for him. I was a very, very close friend for a lot of years when I played with him as a teammate and even since then. I hadn't heard anything about it. I guess some people knew something was going on. It's sad. It's very sad. All I can do is pray and hope."
Amaro discussed Daulton's reputation as a tremendous clubhouse leader.
"I think [former Phillies manager] Jim Fregosi did an amazing job," Amaro said. "I wasn't in the organization at the time when Jim kind of empowered him to be the guy. Dutchie has always been kind of a fun-loving guy. He liked to have a good time, but I think there was a time when Jim felt ... my understanding the process was he kind of anointed him the leader. He gave him the responsibility of taking the team under his own wing, which he did very, very well. I remember sitting in the clubhouse myself, if you screwed up on the field, if you did something he didn't like, all he had to do is look at you. You knew you screwed up and you knew you would be expected not to screw up again."
Said Phillies manager Charlie Manuel: "I can't believe that, really. I'm very sorry about that. It's too bad. I hope everything works out, I hope his health issues get completely well."
Todd Zolecki is a reporter for MLB.com. This story was not subject to the approval of Major League Baseball or its clubs.