M. Young joins 1,000 RBI club on two-run homer
M. Young joins 1,000 RBI club on two-run homer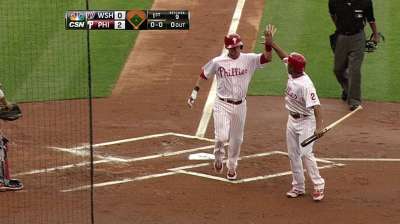 Phillies third baseman Michael Young drove in his 1,000th and 1,001st career runs when he connected on his third homer of the year, a two-run shot off of Gio Gonzalez during the bottom of the first inning of Philadelphia's 6-2 loss to Washington on Wednesday at Citizens Bank Park.
The 36-year-old Young became the 242nd Major League player to reach 1,000 career RBIs. He joins 18 other active players in the Majors who have reached the mark.
The seven-time All-Star made his Major League debut in September 2000 for Texas at the age of 23 and amassed 984 RBIs over 13 seasons in a Rangers uniform before he was dealt to the Phillies last December.
Young's 984 RBIs with the Rangers place him third in franchise history behind Juan Gonzalez (1,180) and Rafael Palmeiro (1,030). He has now driven in 17 runs this season for the Phillies.
Todd Zolecki is a reporter for MLB.com. This story was not subject to the approval of Major League Baseball or its clubs.