Manuel backs Sandberg's decisions at third
Manuel backs Sandberg's decisions at third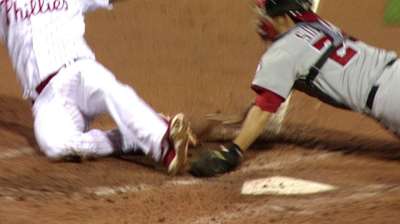 PHILADELPHIA -- Delmon Young is not fleet footed, but Phillies third-base coach Ryne Sandberg sent him home from second base with two outs on a single to center in the fifth inning of Tuesday's 4-2 win over the Nationals.
Nationals center fielder Denard Span threw Young out at the plate, but it took a good throw to do it.
Entering play Wednesday, the Phillies had 10 players make an out at home plate on a running play this season, which is second in the National League. Only the Diamondbacks had more, with 11. But Phillies manager Charlie Manuel said he has had no problem with Sandeberg's aggressiveness.
"If you look and see who's coming up, that plays into it, the situations of the game," Manuel said. "But let me tell you something: If you're on second base with two outs, the moment he hits the ball, you can go. If I'm on second, and I look at the situation, I have to cheat as much as I can, as much lead as I can get, and also I have to really concentrate so when that batter hits it I can go. Just like that. I don't have to stand around, look around to see where the ball went.
"And the players nowadays do that, and it ticks me off. It really does. You see it? They do it all the time. And then they can't go, they get to third and you have to hold them up."
Manuel mentioned wide turns around third base, too.
"I call that the scenic route," he said.
Another factor in Sandberg's aggressiveness is the Phillies came into Wednesday's game hitting just .234 with runners in scoring position with two outs this season, which ranked 17th in baseball. In other words, it isn't like the Phillies have come up with bunches of clutch hits this season.
"From what I've seen from Ryne, the guys he's sent so far, I would have sent every one of them," Manuel said. "Really."
Todd Zolecki is a reporter for MLB.com. This story was not subject to the approval of Major League Baseball or its clubs.