Ruiz begins rehab assignment at Triple-A
Ruiz begins rehab assignment at Triple-A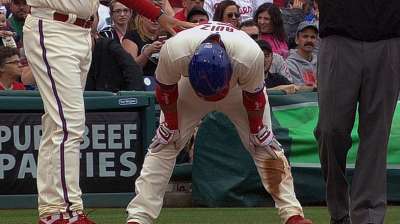 DENVER -- Phillies catcher Carlos Ruiz started for Triple-A Lehigh Valley both Saturday and Sunday as he began a rehab assignment as he recovers from a right hamstring strain.
"He got two at bats, he played five innings," manager Charlie Manuel said. "He did okay. It sounded like he got through it real well. He's playing again today. He'll be there about four or five days."
Ruiz went 1-for-3 and caught seven innings with Lehigh Valley on Sunday, and he is expected to be in Philadelphia on Monday before completing his rehab in Double-A Redding while Lehigh Valley takes to the road.
Chase Utley started taking regular batting practice with the Phillies on Friday and will likely head out on a rehab assignment when the Phillies return home on Monday.
"Utley's going down either to Redding or Lehigh Valley for a couple days, and he'll call and let me know how he is," Manuel said. "He's going Tuesday, and hopefully we'll have him back by the end of the week."
Owen Perkins is a contributor to MLB.com. This story was not subject to the approval of Major League Baseball or its clubs.