Diekman hopes to impress Phillies following callup
Diekman hopes to impress Phillies following callup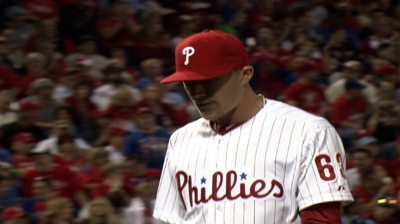 DENVER -- After joining the Phillies following a callup from Triple-A Lehigh Valley, reliever Jake Diekman said he's treating his Major League stint as a temporary trial. And manager Charlie Manuel likes that approach.
He could be headed back to Triple-A on Monday, when the Phillies plan to activate John Lannan for a start against the Nationals. But if he can make an impact, Diekman's stay might last more than three days.
"That's a good way to approach it, don't take nothing for granted," Manuel said. " … I talked to some of our young players today, they come up here, they get real comfortable and they fall into the flow. That's not good. You come up here when you get a chance. Sometimes you only get one chance or two chances. And sometimes you don't get a chance at all."
Diekman, 26, appeared in 32 games for the Phillies in 2012 and posted a 3.95 ERA. He is trying to return to Major League form. The lefty struggled through 30 games with Lehigh Valley, posting a 5.70 ERA through 30 innings.
"Anything that Diekman can do to help him from a standpoint of getting his command and mechanics and things like that, get him right, that's good," Manuel said. "That's what he was sitting out to work on."
Ian McCue is an associate reporter for MLB.com. This story was not subject to the approval of Major League Baseball or its clubs.