Brown's two homers gives him NL lead with 15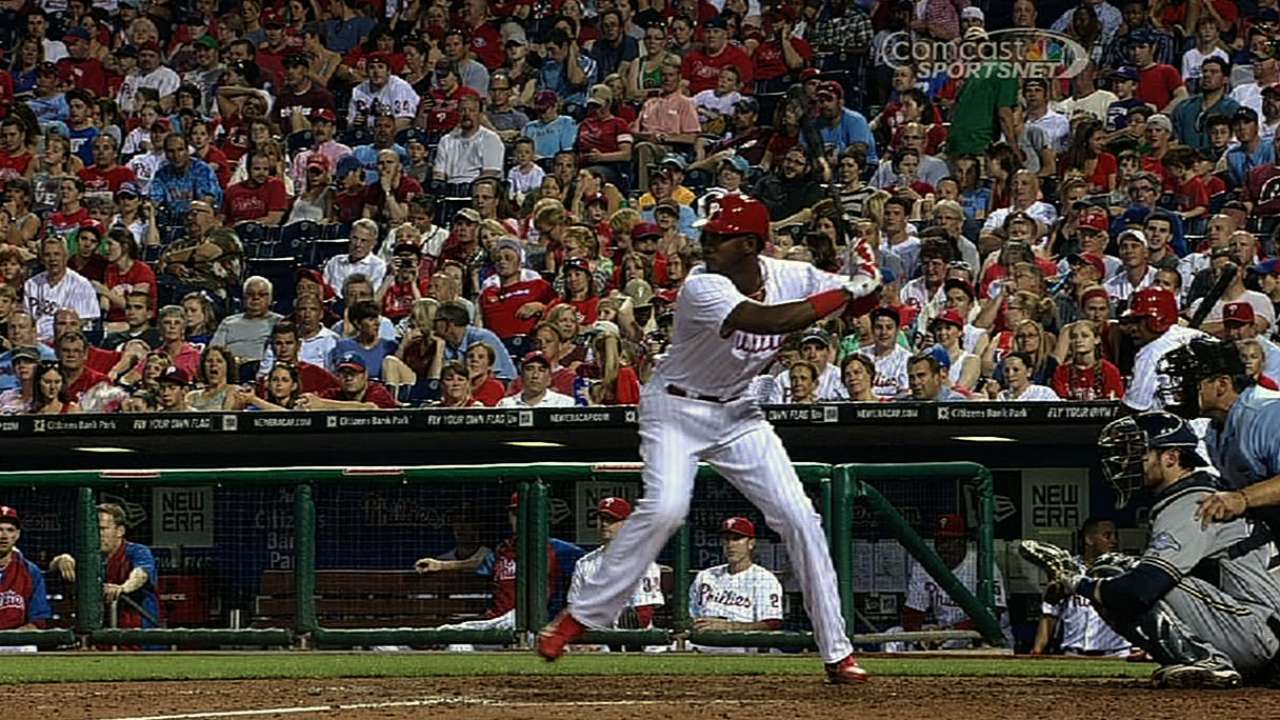 PHILADELPHIA -- Phillies outfielder Domonic Brown crushed two home runs Friday night to make him the National League leader with 15, and also put an exclamation point on what was a preposterously productive month.
Hitting homers has just become business as usual for the 25-year-old.
Brown went 2-for-4 in the Phillies' 8-5 loss to the Brewers on Friday, and ended up with a .303 average, 12 home runs, 25 RBIs and a .990 OPS for the month of May. His 15 home runs ties him for third most in the Majors.
Brown also did not draw a single walk in May and became the first player in Major League history to hit at least nine homers in a calendar month without walking once.
The bulk of the lanky outfielder's production came at the end of the month, and Brown has been hitting the ball at a blistering pace in his last 11 games. Since May 20, Brown has eight home runs, 16 RBIs, is hitting .372 and has produced a 1.400 OPS.
While some people were skeptical of Brown, who had just 12 career Major League homers entering the season and hit .233 this April, Phillies manager Charlie Manuel maintained a positive outlook about him. He said he thought Brown was capable of putting together a streak of success at the plate.
"I've made statements about guys like [Jim] Thome, [Brian] Giles, guys like that," Manuel said. "And I've had guys in meetings say 'I'm going to tell you to shut up.' By the end of the year, they don't tell me to shut up. Seriously, I can name you a lot of guys. That's part of loving the game. That's also part of stand up and put what you see."
Brown was hitting fifth in the Phillies' order for the second contest in a row on Friday, and his multi-homer game was his second in three nights.
Stephen Pianovich is an associate reporter for MLB.com. This story was not subject to the approval of Major League Baseball or its clubs.