Savery back up with Phillies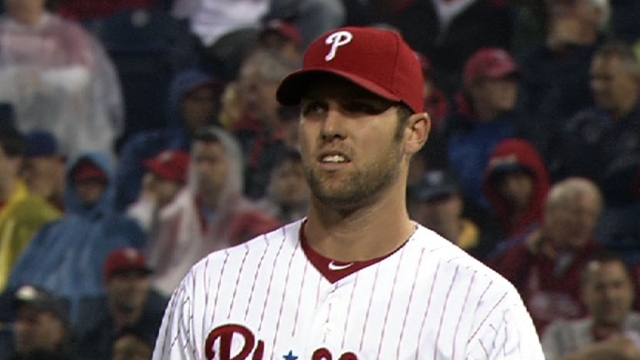 PHILADELPHIA -- Joe Savery is getting used to the trip between Allentown and Philadelphia.
He's had short stints with the Phillies in 2011, '12 and earlier this season, but has spent the rest of his time with Triple-A Lehigh Valley. The left-handed reliever was called up again on Friday after the Phillies released veteran Chad Durbin.
Savery is accustomed to the move between Triple-A and the Majors, but he said Friday's callup felt unlike the others.
"Hopefully, I get some opportunities," Savery said. "This certainly feels different than the other callups so far, and hopefully that's the case."
Savery noted it was kind of tough to replace Durbin, who had a 9.00 ERA in 16 innings, because of Durbin's presence in the clubhouse. Savery said the 35-year-old made young players like himself feel comfortable.
"I'm certainly going to miss him, and I'm sure the other guys will, too," Savery said.
In 18 relief appearances in the Minors this season, Savery posted a 4.03 ERA, 29 strikeouts and eight walks in 22 1/3 innings.
Durbin was part of a Phillies' bullpen which has struggled for most of the season. Manager Charlie Manuel said Savery -- who has allowed 15 earned runs in 28 2/3 Major League innings -- will get a chance to pitch as he continues to look for an answer from his relievers.
Savery said he knows he needs to pitch well or it will be back on the road to Allentown for the 27-year-old.
"My only option is to perform, or I won't be here very long," Savery said.
Stephen Pianovich is an associate reporter for MLB.com. This story was not subject to the approval of Major League Baseball or its clubs.