Adams' arm feels good despite poor showing in return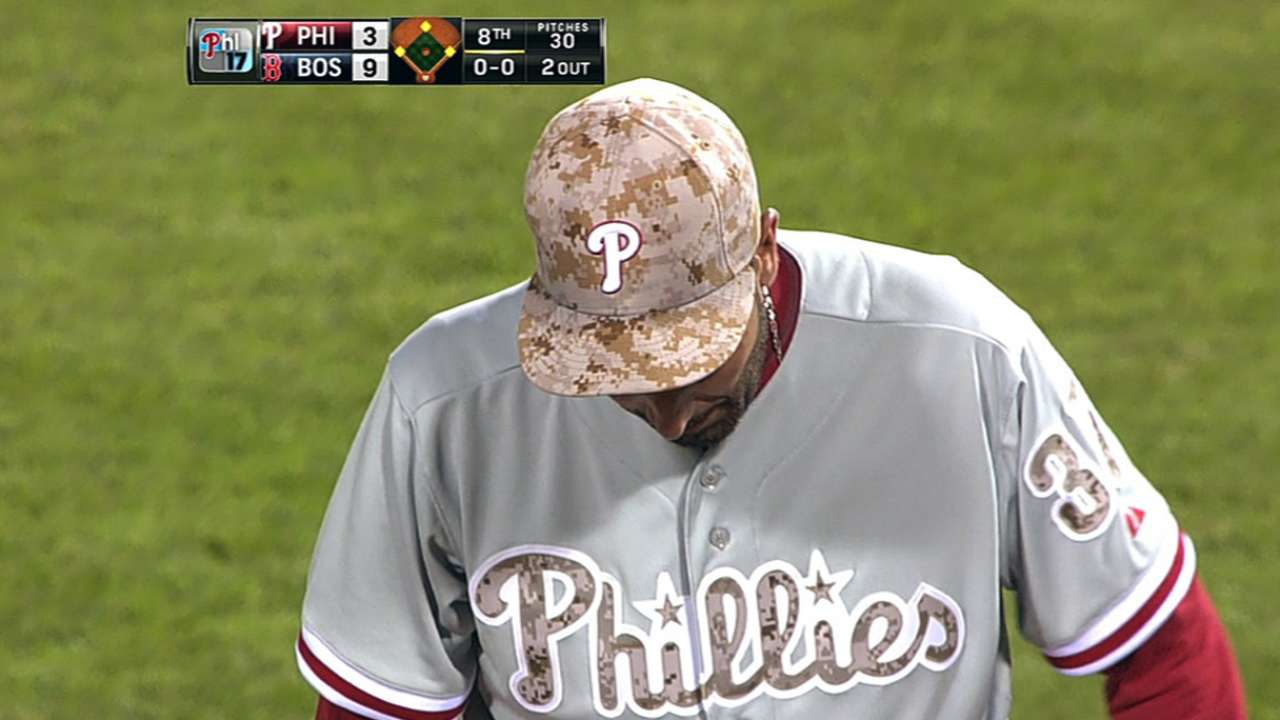 BOSTON -- The Phillies originally scheduled Mike Adams to make a rehab appearance Monday, but they decided to activate him Sunday after a bullpen session Friday in Clearwater, Fla., despite the fact that he looked rusty.
He still looked rusty when he allowed one hit, one run, three walks and struck out one in just two-thirds of an inning in Monday's 9-3 loss to the Red Sox at Fenway Park. The run hardly mattered in a blowout loss, but Adams threw 30 pitches to make him unavailable for Tuesday's series finale. They were the most pitches he had thrown in a game since Aug. 5, 2011, when he threw 31.
Adams' struggles made one wonder if that rehab appearance would have served him well. His performance certainly would have mattered more if he had pitched with a one-run lead instead.
"I felt l was ready," Adams said. "I just got myself in a bind. A couple calls could have gone a couple ways maybe. At the same time, I've still got to make quality pitches, but the score was what it was and it allowed me to work out those kinks, even though I didn't get the results I would have liked."
Adams, who said he probably would have pitched differently if the game had been close, threw at least 20 cutters as he tried to get a feel for the pitch.
"It was probably the best I felt arm-wise in a long time," he said. "So I thought the ball was coming out good. I just wasn't really used to the ball coming out like that. So I was trying to make adjustments to correct it. I ended up throwing a lot of cutters just to get a feel for that. I was disappointed with the results, but at the same time I'm trying to take the good as far as how I felt and the liveliness on the ball. Now I'm just trying to hone it in to be around the strike zone."
Adams said he expects to be available to pitch Wednesday, when the Phillies return to Citizens Bank Park to face the Red Sox.
Todd Zolecki is a reporter for MLB.com. This story was not subject to the approval of Major League Baseball or its clubs.