Brown making case to move up in lineup, but not yet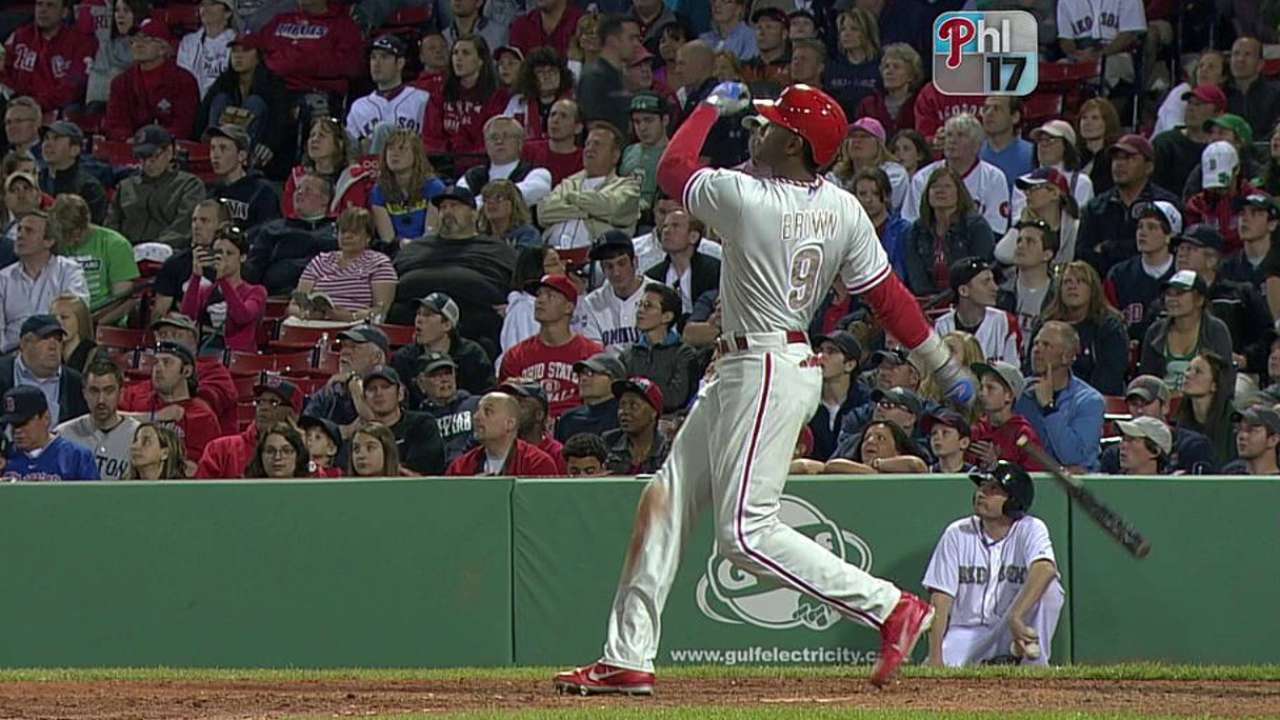 BOSTON -- Domonic Brown has been the best hitter in the Phillies' lineup for more than a month, and it is not close.
He has hit .284 with six doubles, one triple, eight home runs, 23 RBIs and an .848 OPS in 30 games from April 24 through Monday's 9-3 loss to the Red Sox at Fenway Park. He earned National League Player of the Week honors after hitting .348 (8-for-23) with two doubles, one triple, two home runs and seven RBIs in six games in the past week.
Interestingly, he has not hit higher than fifth this season, hitting sixth 42 times.
Could that be changing?
"He'll let me know when it's time for him to move," Phillies manager Charlie Manuel said before Tuesday's game. "He's headed that way. Really, I mean that. I've developed a lot of players through the Minor Leagues and big leagues. I've had some of the best players who have ever been in baseball. They'll usually let you know where they're going to hit. [Chase] Utley and [Ryan] Howard did that. When people talk, 'Why is he hitting down there?' He'll hit his way there eventually."
Howard won NL Rookie of the Year honors in 2005. He hit sixth almost the entire season behind Jimmy Rollins, Kenny Lofton, Chase Utley, Bobby Abreu and Pat Burrell. He hit mostly fifth the first few months in 2006, permanently moving to fourth only when the Phillies traded Abreu on July 30. Howard won NL MVP honors that season.
Utley hit mostly fifth and sixth the first few months of 2005 before Manuel put him into the third spot for the first time on July 14. He remained there almost exclusively the rest of the season.
Brown might not move up in the lineup this week, but if he keeps hitting like this it is an eventuality.
"In my head, I always feel like I'm up to the task of being in the top of the order," Brown said. "That's Charlie's decision, and whenever he thinks I'm ready for it, I'll move up. Right now I'm fine where I'm at. As long as guys are getting in scoring position and I'm doing my little part on the team, we got Howard, Utley and those guys to drive in runs, so once I get a little time then I just try to do the same.
"You've got to earn it with Charlie. I grew up the same way. I totally understand where he's coming from, whereas a lot of guys might not. Nothing's going to be handed to you. You've got to go out and work hard. If you're putting up the numbers, then you're going to hit in the top of the lineup. If you don't, then he's going to put you down there in the seventh and eighth hole. Charlie's one of those managers that's going to let you know exactly what's going on. It's no surprises."
But Brown is encouraged with his progress. He credits a shorter, quicker swing for much of his success.
"Being around guys with short swings," he said. "You can definitely see the difference with guys like Jimmy, Utley, those guys. With that being said, I can get on the plate like those guys. Me being [6-foot-5], longer arms, I've got to be short to the baseball. Just going out, watching a lot of film and being around coaches, it's a little bit of everything."
Brown said he still has work to do, but he got a nice reward for his early success. He got a watch as part of the Player of the Week Award.
"I'm always trying to be stylish," he joked. "I'm definitely going to wear that, check it out a little bit."
Todd Zolecki is a reporter for MLB.com. This story was not subject to the approval of Major League Baseball or its clubs.