Howard taking left knee issue day to day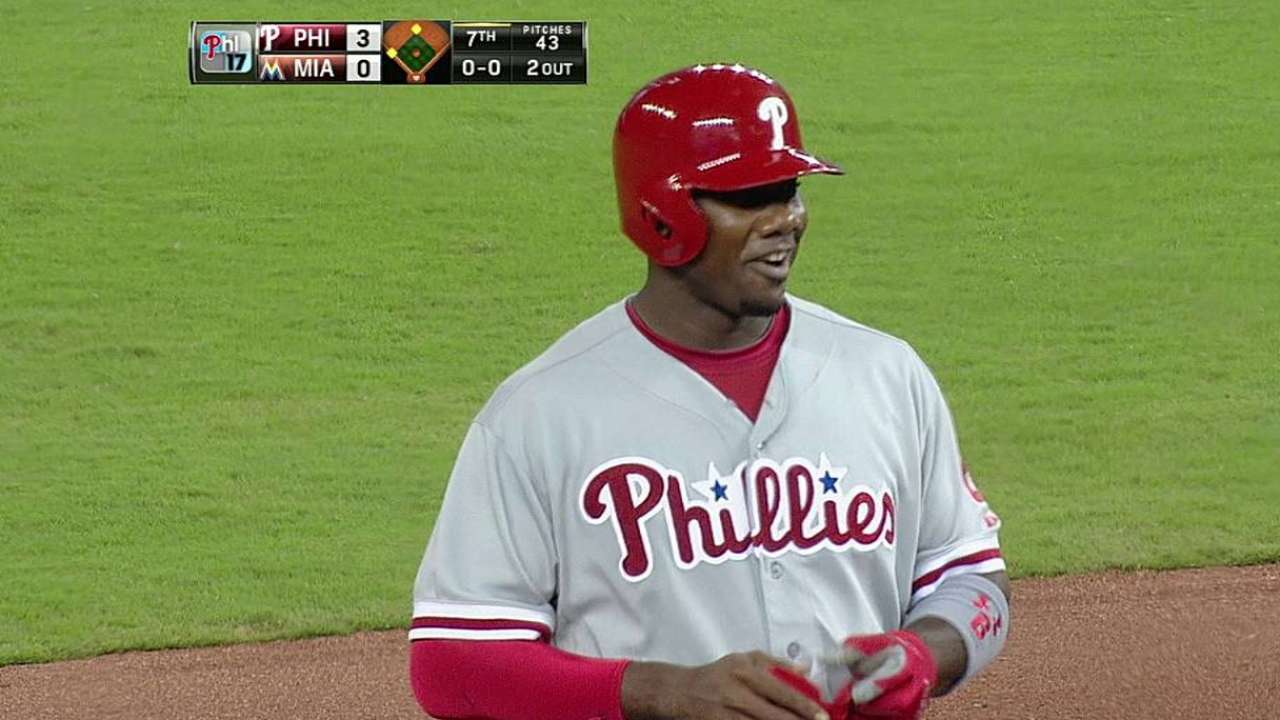 BOSTON -- Phillies first baseman Ryan Howard woke up Monday morning with his left knee sore, but less so than Sunday.
This could be what the rest of his season is like: it is sore one day, really sore the next.
Howard did not play Sunday in Washington because of the injured knee, which required a cortisone injection May 19. But he was in the lineup for Monday's series opener against the Red Sox at Fenway Park.
"Right now I'm just looking at it day to day," Howard said. "Sometimes it's a little more, sometimes it's a little less. Obviously that's going to be something. Right now I'm looking at it day to day, and trying to run with the good days."
Howard said surgery is "obviously the worst-case scenario. I guess kind of if all else fails."
He said surgery has not been discussed at this point. But certainly a balky knee for a hulking first baseman who missed much of last season recovering from a ruptured left Achilles is cause for concern. Howard is in just the second year of a five-year, $125 million contract, which is the fifth-largest contract in baseball history based on average annual value ($25 million), and his OPS, a good indicator of a hitter's overall productivity, has been in decline since 2009.
"His leg is going to always be bothering him," Phillies manager Charlie Manuel said. "He has some arthritis. It comes and goes in his legs. He's going to always be bothered by that. On the days when it really hurts him bad, maybe those are the days where I have to communicate him. He has to tell me."
Howard said he will communicate with Manuel whenever he feels he can't play, but he wants to compete.
"To me, you want to be out there, you want to play, obviously," he said. "You play hurt, you play injured to the best of your ability. Guys go out and play hurt, play injured. That's the part of your competitive nature. But it's about being smart about it, too. If it's something that continually bothers me to where it's, 'I can't go right now,' I'll let them know."
Howard is hitting .254 with six home runs, 25 RBIs and a .719 OPS in 181 plate appearances. Howard is tied for 56th in the Majors in RBIs and tied for 79th in home runs. In the past, he has been near the top in those categories.
Asked if he would drop Howard in the lineup, Manuel said, "He's kind of different than all those other hitters. If he's hitting the ball, he stands a good chance of knocking in runs. I don't really think moving him in the lineup makes a whole lot of difference really. How he's hitting on that day is how he's hitting. Some days he has bad days and other days when he's doing good ... if anything, I don't particularly like sending him a message. I don't think it's time in his career for me to send him a message."
So the Phillies will have to hope Howard can manage the continual discomfort in his knee, which he acknowledges affects him at the plate.
"Obviously it plays a factor with it being my push-off leg, you try to get that extra torque," he said. "But if I'm out there I'm trying to do what I have to do. I'm not making excuses."
Todd Zolecki is a reporter for MLB.com. This story was not subject to the approval of Major League Baseball or its clubs.