Utley to get MRI on rib cage Thursday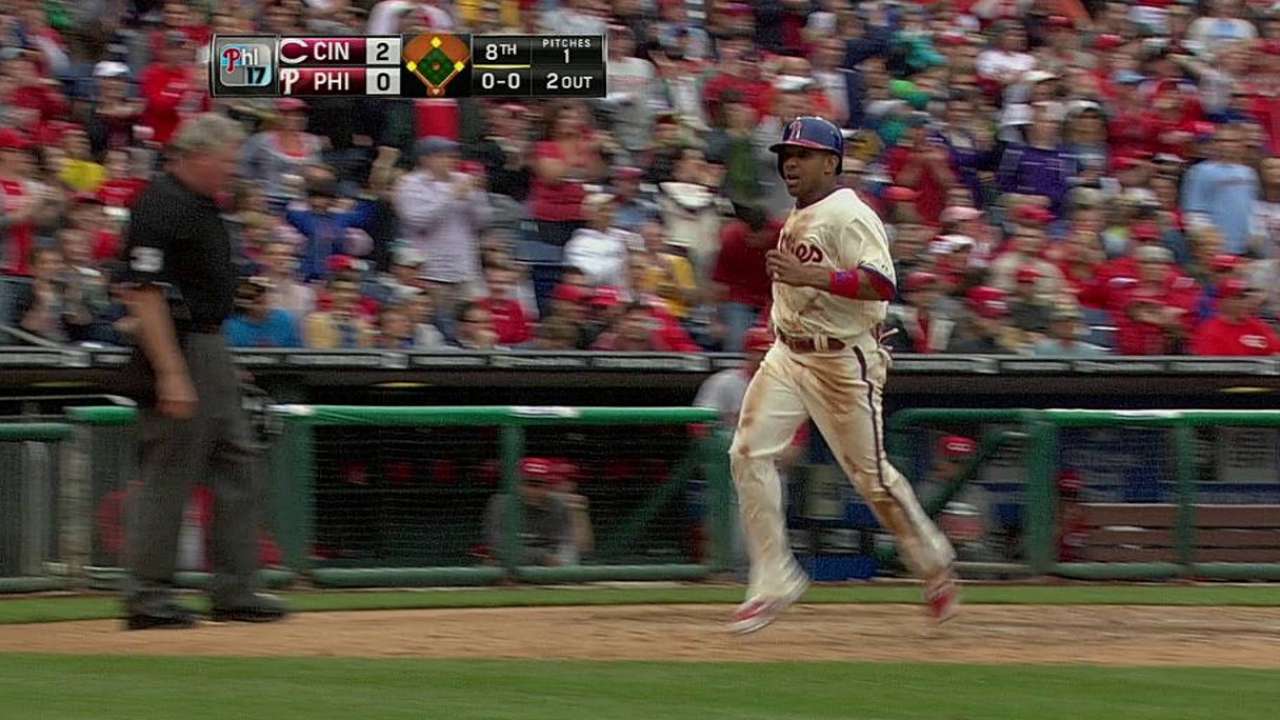 MIAMI -- Chase Utley knows he needs to be smart about this.
He felt a burning sensation in his right rib cage taking swings in the batting cage before Tuesday's game at Marlins Park. He got scratched from the lineup a short time later, did not play in Wednesday's series finale against the Marlins and will have an MRI exam Thursday in Philadelphia.
It seems likely Utley will miss time, with a trip to the disabled list a good possibility.
"It definitely scared me a little bit," he said Wednesday. "My first swing I took in BP, I felt something. My second swing, I felt it again. My third swing, I felt it again. After the fourth swing, I realized something wasn't right. That's when I told Charlie [Manuel] I have some pain in my side. He told me to go see [head athletic trainer] Scott [Sheridan]. He took me out of the game. I think it was a smart thing to do. You want to be careful with these things, because they could linger and get worse if you try to play through it. I think we caught it early enough, but it's hard to know until we have some imaging on it."
Utley said he felt about the same as Tuesday, not great, but not terrible.
"It's kind of in-between," he said.
Utley has spoken with teammates and former teammates who have had similar injuries in the past. Several Phillies pitchers have spent time on the DL in recent seasons because of strained obliques, but so have position players like catcher Carlos Ruiz and former Phillies outfielder Jayson Werth. Ruiz spent 23 days on the DL in 2009, while Werth spent 15 days.
"The main thing they said was, 'Don't rush back,'" he said. "That's when you can make it worse and prolong the time you're out."
Utley has been one of the team's few bright spots this season. He is hitting .272 with seven doubles, two triples, seven home runs and 25 RBIs in 44 games. He has an .814 on-base-plus-slugging percentage, which ranks seventh out of 20 qualifying second basemen in baseball. He has missed much of the previous two seasons because of chronically injured knees, but the knees have not been an issue so far.
"I just hit into a little bad luck," he said. "I have felt pretty good. Hopefully, this is just a small bump in the road."
If Utley lands on the DL, the Phillies have a few candidates to replace him, including Triple-A infielders Pete Orr, Michael Martinez and Cesar Hernandez. Darin Ruf could be a possibility with games in Boston on Monday and Tuesday, when he could be used as a designated hitter.
Todd Zolecki is a reporter for MLB.com. This story was not subject to the approval of Major League Baseball or its clubs.