Left knee feeling better, Howard rejoins lineup
Slugger takes it day by day, unsure if he'll need surgery after season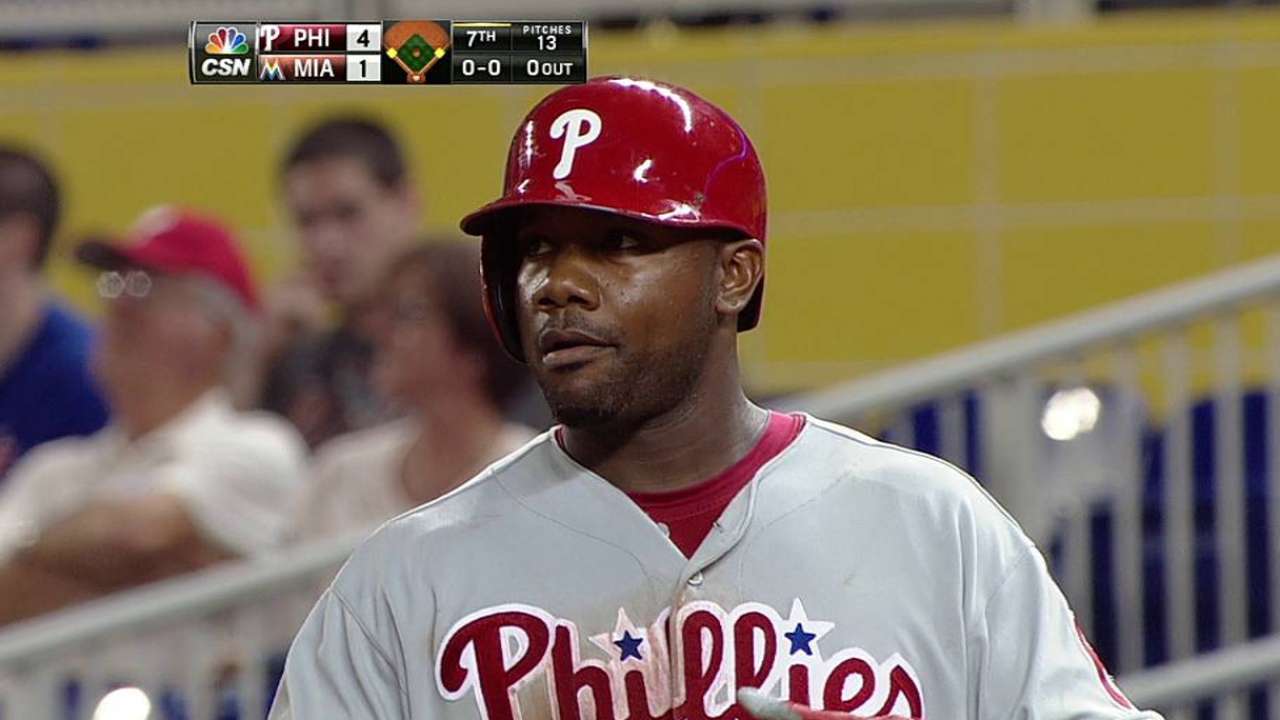 MIAMI -- Ryan Howard has thought about the long-term prognosis for his balky left knee.
He tried his hand at gallows humor to discuss those concerns Tuesday at Marlins Park.
"I guess if I blow up, then I'd be worried about that then," he said.
Howard received a cortisone injection in his knee Sunday in Philadelphia. A MRI exam Monday revealed inflammation and changes in the meniscus, which essentially means he has tears in the cartilage. That would be a concern for anybody, but considering Howard is in just the second season of a five-year, $125 million contract and $85 million of that is owed following this season, Howard's left leg problems carry a little more weight.
He said he does not know if the knee issue could require surgery following the season.
"I would guess that would obviously be worst-case scenario," he said. "But I mean, right now I think it's too early to tell."
But Howard was back in Tuesday's lineup against the Marlins, which is a positive short-term development. He went 3-for-5 with three RBIs, leading a 15-hit attack in a 7-3 victory.
"If I'm playing, obviously it feels pretty good," he said. "But you take it one day … that's why they call it day by day. Today I'm playing, so we'll see how it feels. It feels all right right now."
But the possibility exists the knee issue could be related to the Achilles injury, which forced Howard to miss much of last season.
After all, everything is connected.
"I'm not a doctor, I just play first base," Howard said. "But there could be a chance that it is all related. You know the knee bone is connected to the hip bone, or however the song goes. … We'll continue to just see how it feels and, for the long term, continue to keep an eye out."
Asked if he thought about the possibility of playing the next three seasons with a knee issue, he said, "Yeah, that would [be tough]. But I think that's where you take the time to get a full diagnosis and see … 'OK, this is a situation with my left leg. I want to make sure that my elbows, my knees, my shoulders [are good], all that stuff.' That's just me personally. Either take time in the offseason or whatever to take a look and … 'Are we cool? What's going on over here [left leg], is that going to have an effect with this leg [right leg]? This shoulder?' All that stuff is connected."
Todd Zolecki is a reporter for MLB.com. This story was not subject to the approval of Major League Baseball or its clubs.