Ruiz headed to DL with strained right hamstring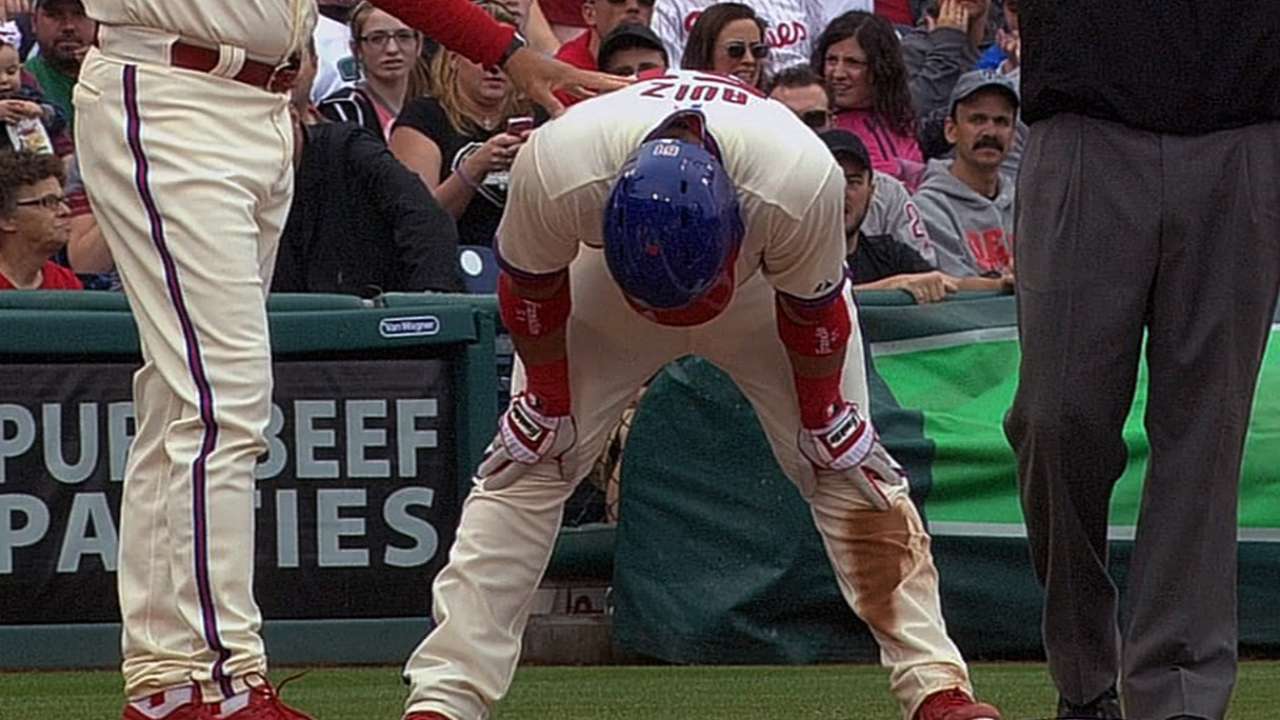 MIAMI -- The Phillies will place catcher Carlos Ruiz on the 15-day disabled list Tuesday with a Grade 2 strained right hamstring.
He is expected to be sidelined three to four weeks, based on the size and location of the tear.
The Phillies selected catcher Humberto Quintero's contract from Triple-A Lehigh Valley. The club placed right-hander Mike Adams on the DL with a strained back to make room for Quintero. Right-hander Tyler Cloyd will take Ruiz's spot on the roster Tuesday and start against the Marlins.
Ruiz injured the hamstring running the bases in the second inning of Sunday's 3-2 victory over the Reds at Citizens Bank Park. He had hit .235 (12-for-51) with two doubles and two RBIs in 16 games after missing the first 25 games for using a banned stimulant. He hit .325 (10-for-31) in his previous 10 games.
Phillies catchers have a .582 on-base-plus-slugging percentage this season, which ranks 27th in the Majors. They were counting on Ruiz to boost that position, but he lasted less than a month.
"We were comfortable with the [catching] situation we had to start the season," Phillies assistant general manager Scott Proefrock said. "Q did a good job for us. I think we're comfortable with what we have. We're not going to stop looking, but I don't think we're actively out there pursuing anything. But you keep your eyes and ears open."
Todd Zolecki is a reporter for MLB.com. This story was not subject to the approval of Major League Baseball or its clubs.