Howard sits out with left knee inflammation
Phillies slugger undergoes MRI; club hopeful he can avoid DL stint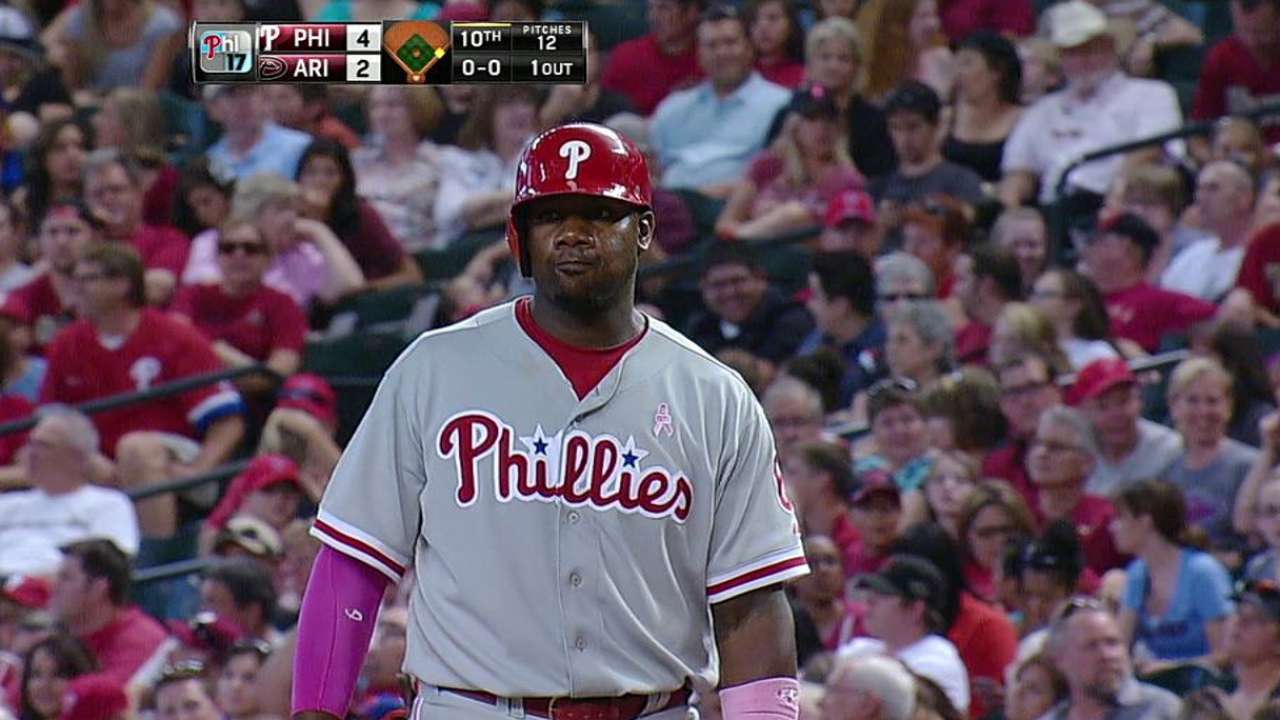 MIAMI -- Phillies first baseman Ryan Howard missed much of last season following surgery to repair a ruptured left Achilles.
He then had a cortisone injection in his left knee Sunday in Philadelphia because of inflammation and changes in his meniscus. He was unavailable to play Monday against the Marlins, but the Phillies said he is day to day. They are hopeful he can avoid a trip to the disabled list. They also hope this is not the beginning of a trend of leg injuries for the $125 million first baseman, who has $85 million remaining on his contract following this season.
"Injuries are a part of the game," assistant general manager Scott Proefrock said Monday at Marlins Park. "That comes with the territory when you sign these guys. We have a bunch of pitchers on long-term contracts, too. It's just a risk you take. You never know what's going to happen. Chase [Utley] signed a seven-year deal and we lost out."
Howard had an MRI exam Monday morning in Philadelphia before joining the club in Miami. Phillies head athletic trainer Scott Sheridan said Howard had symptoms in his knee for a couple of weeks, but it was manageable. Recently, however, Howard told Sheridan the knee bothered him more.
Could the Achilles injury he suffered in Game 5 of the 2011 National League Division Series be related to the knee injury? It is common for pitchers to develop elbow issues because of shoulder and back issues. As a pitcher's mechanics get out of whack, it causes stress on other parts of the body.
"That's the million dollar question right there," Sheridan said. "For me, it's like the old song: the foot bone is connected to the knee bone … to me, the closed chain of the ankle relate to the knee, relate to the hip. They all play a part. So that's a reasonable question. Whether that's what's happened, we don't know."
Sheridan said the goal is to get Howard healthy and move on, although that remains to be seen.
"We're going to do the treatment that we did and see how he responds to it," Sheridan said. "And then we'll have to make decisions from there as to what needs to be done beyond that."
The changes in the meniscus essentially mean a tear and inflammation.
"When you look at the meniscus, there's a little piece of it that we're concerned about," Sheridan said. "There's certain tests that make it look like he has a meniscus tear, and that's not as clear cut. If you did an MRI on all of it and you find these changes in the meniscus, the question is -- is that what's really causing the symptoms?"
Howard is hitting .245 with six home runs and 22 RBIs in 41 games this season. He has a .713 on-base-plus-slugging percentage, which is the lowest mark of his career. His OPS has declined each season since 2009.
Asked if Howard's build -- he is listed at 6-foot-4, 242 pounds -- could cause him continued leg problems, Sheridan said, "It doesn't matter whether you're big or small, if something in the joints is creating a problem for you, you've got to take care of it no matter whether it's Freddy Galvis or Ryan Howard. Mechanically, that's what we're worried about. Is that truly going to hinder him from getting back?"
Sheridan also said players have played with this issue in the past, which is why he is hopeful Howard can do the same.
"I would bet there are a ton of guys who've had tears in their meniscus, on this team or on others," he said. "It's part of wear and tear and playing 162 games and whatever else. Lots of wear and tear in this game. These guys, it's their legs. Pitchers, it's the shoulder."
Todd Zolecki is a reporter for MLB.com. This story was not subject to the approval of Major League Baseball or its clubs.